If you talk to the folks of PAX Lab, the company behind the cannabis industry's premiere loose-leaf vaporizer, don't expect a conversation about products. They're more than willing to discuss their line of vaporizers of course, but what they're interested in as a brand is something more abstract. As the cannabis industry expands into a more mainstream platform, PAX is changing how it approaches its consumers, and becoming something more "mission-driven."
In short, their tagline of being "the Apple of cannabis" will soon mean something more literal.
"We derive a great amount of inspiration from Apple and other brands that have built products where it's fairly user-centric," PAX CEO Bharat Vasan says. "We feel an obligation and a desire to earn folks' trust every day on the quality of the product, the quality of the experience, keeping their best interests in heart."
In a page stolen from the Steve Jobs' playbook, PAX Vice-President & General Manager of PAX Era JJ O'Brien says, "It's about storytelling. It's about finding ways to tell new stories."
The shift in direction from the brand's origins also marks an overall change in connecting with their consumers. Instead of being recognized as a company that produces great products, Vasan wants PAX to focus on cannabis education and overall making marijuana "a little more approachable, a little less scary."
When Vasan talks about the company in this way, the Apple comparisons become obvious. For many, the iPod was their first mp3 player, the iPhone was their first "smartphone," and the iPad the first tablet they ever owned. More than any technology company, Apple focused on making something possibly niche into a palatable and pleasant user experience.
PAX only made sleekly designed and packaged products like Apple at first. The first PAX vaporizers famously didn't come with any directions. Hidden features abounded inside the device, but you could only discover them through either word of mouth or trial and error. But starting with the PAX 3 and PAX Era—which The Cannabist called "the vaporizer of the future for concentrate lovers"—users can access an app that can customize temperature and flavor, as well as provide security for their vaporizers.
"There's all these things you can do that humanize the same core product," Vasan says. "Whereas the first buyers of the iPhone were probably hardcore cutting-edge technology geeks, I think we see the same evolution where PAX has done really well and has street cred with folks that really use the product and know the space. But it also has a lot of credibility because we focus on things like design simplicity, ease of use, security that makes it easier for new people coming in."
That attitude also explains their partnership with Blue River and Thievery Corporation for 4/20. "Lebanese Blonde" was Thievery Corp's breakout single, memorably featured in the 2004 Zach Braff film Garden State. You may not immediately recognize it while listening, but it's a song about smoking a strain of Lebanese hashish. Though other weed-friendly celebrities haven't been shy about cashing out and slapping their name on any product, Thievery Corp. sat on the possible tie-in.
Rob Garza of Thievery Corporation called it an "easy choice" to work with PAX and Blue River, whose proprietary technology allows for a full-plant extract on cannabis concentrates. Together the partners have produced a Thievery Corporation limited edition PAX Era and a "Lebanese Blonde" cannabis oil PAX pod.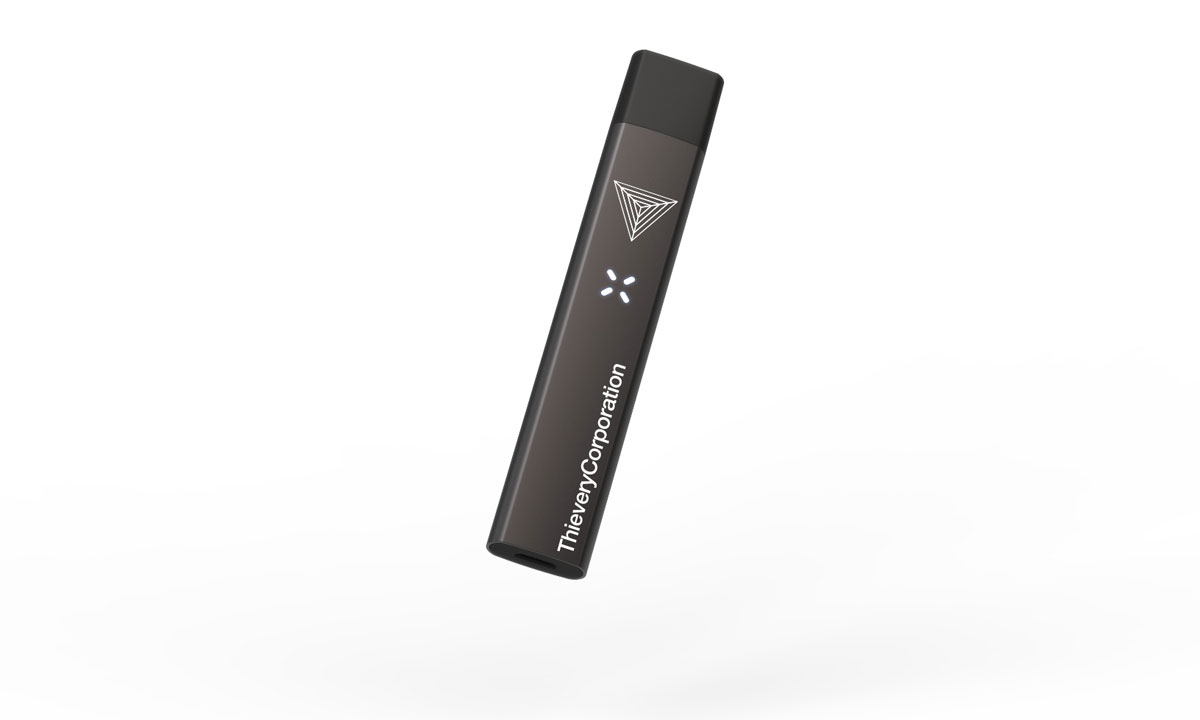 Echoing how craft beer made beer culture more approachable, this collaboration is another means of mainstreaming marijuana to a more casual consumer, one who doesn't care for stoner culture and Rastafarian beanies and Purple Dank.
"We aren't out there touting Rasta flags and speaking to the cannabis culture of years ago, we're really pushing forward what it means to be a cannabis consumer in this dawn of the legal cannabis age," O'Brien says of the collaboration. "That's really the kind of ethos we've taken with this and we'll continue take going forward."
With the ongoing expansion of the cannabis industry, the space exists for a cannabis brand to introduce and develop a genuine relationship with new consumers. To truly become the "Apple of marijuana," in other words. One thing's for sure, though: PAX wants to assume that mantle moving forward.
"These are incredibly personal products to people and we don't take that lightly," Vasan says. "We're not in the business of selling them lots of products. The relationship is about trust fundamentally, so we take that seriously."