If you've noticed more people than usual standing in your path with clip boards, begging you to lend a hand in this crazy little thing called democracy, that's because it's National Voter Registration Day. It's like Christmas or Hanukkah, except the only gift you receive is the knowledge that you're able to lend a hand in turning this country in the direction you believe it should go. And no time off work. Sorry, we don't even get that for actual election days.
If you visited reddit today — of course you did, it's a day ending in Y — you saw this prompt before scrolling through endless crazy  food porn and bizarre Dominos AMAs: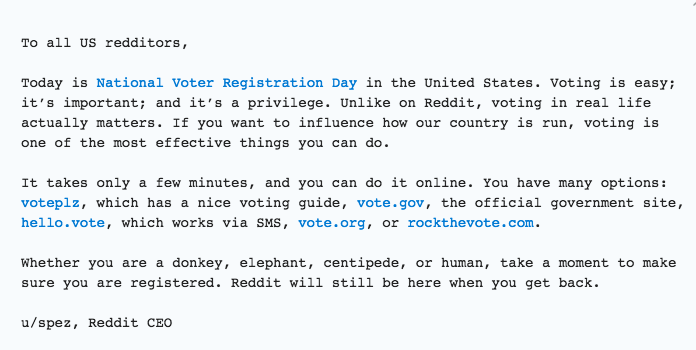 In case you clicked away from that pop-up window too fast to take notes, here are the recommended sites. Choose one, register to vote before the deadline in your state, and show up on November 8th.
VotePlz calls itself the "literal fastest way to vote." Check if you're already registered, get the right forms and info for mailing it in, get a guide for voting, or turn it into a competition with your friends to see who can register the most people.
Vote.gov is the official government website for voter registration. It's not drab and boring, however. Select your state or territory and they'll tell you if you can register online, and get the goods you need to do so.
HelloVote is a chatbot for texting and Facebook messenger that'll walk you through the process. Use their website or text text HELLO to 384-387 to get going.
RocktheVote — Remember Rock The Vote, 1990? This nonprofit is still rocking it, with info on who's running in your state and how to register, of course.
Vote.org, pretty similar to the above options. Info, registration details, status check. Are you getting the point, yet? That it's so easy and so important? Pick a website and do it now. Before you head back to Reddit.