Back in November, Arcane Revelry partnered with Feastly and Select CBD to host an adult 21+ CBD-infused Brunch Series. For a ticket price of $55, approximately 40 guests gathered together where they were greeted with music by Justin Escoto and drinks. Guests could choose from a Blood Orange Press or a Whiskey and Ginger Lime specialty cocktail made with Indio Spirits or a mimosa consisting of champagne, orange juice, Messina Bitters, and pomegranate seeds. Also, Coalition Brewing's Two Flowers, a CBD IPA, was on tap for those preferring a craft beer.
Guests were treated to a four course brunch prepared by chef Harol Mendieta. The brunch began with a Infladita de Cochinita Pibil, a pickled onion with candied Habanero. This was followed by the Huarache de Trucha Ahumada and then a Pork Belly al Pastor with grilled pineapple chile de arbol sauce. At the conclusion, guests were served a desert consisting of chocolate filled polenta served with lavender cream and violet cotton candy. Each menu item contained 5mg CBD. As the CBD was infused in the sauces and dressings used for each course, guests could request a non-infused item if they desired.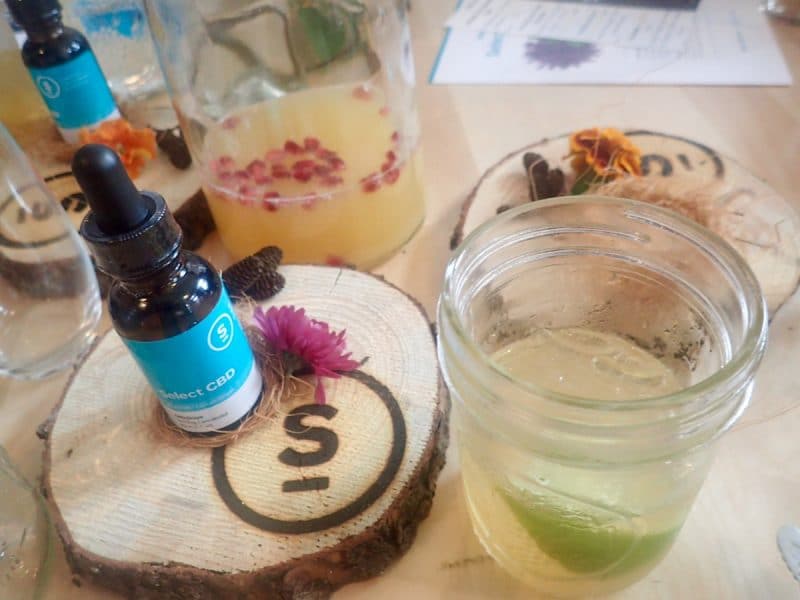 During the meal, Select CBD representatives offered a mini-tutorial designed to help normalize cannabis and hemp consumption. Guests were walked through the herbal and essential oil combinations that work together to help people focus, relax, or revive. Select CBD oils come in peppermint, lavender, and lemon ginger while their disposable CBD vape pens are available in grapefruit, lavender, spearmint, cinnamon, peppermint, and lemon. According to Select CBD Marketing Director, Sara Groom, "A professional, relaxed, creative and fun atmosphere is exactly how we want people to experience our products for the first time."
Arcane Revelry will be hosting 3 additional infused events through Feastly (dates and themes TBD) Those interested in being notified about future events can subscribe to their mailing list by going to arcanerevelry.com.
Smoked Trout Huarache (Huarache de Trucha Ahumada)
For those looking to try this cuisine at home, here's the recipe for the most popular dish served at the brunch.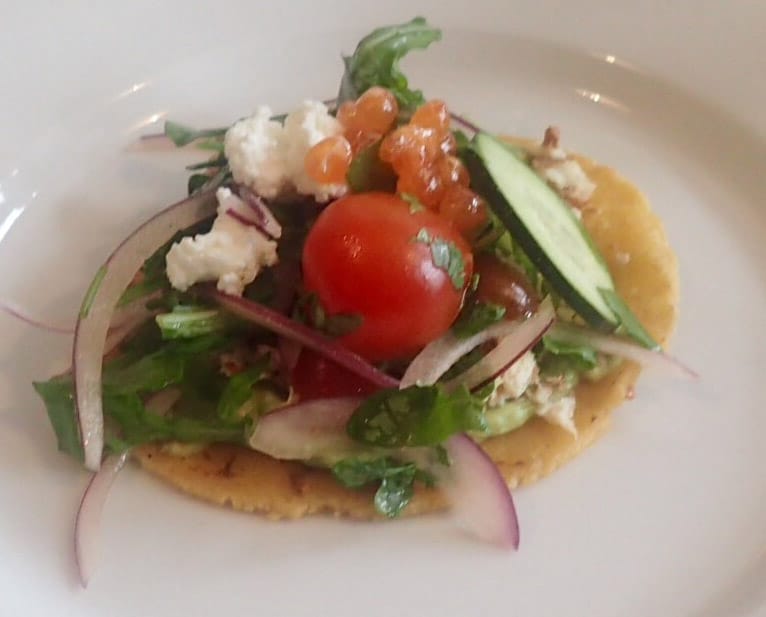 Ingredients:
1 Smoked Fillet trout
1/2 pound of yellow masa (Maseca [corn flour] can be use instead follow instructions for preparation)
1 cup of ricotta cheese
For the vegetable salad:
4 cherry tomatoes
1 Breakfast radishes
1 small bunch of Arugula
1 small cucumber
Small red onion
For the Orange Coriander Dressing:
1 cup of fresh squeezed orange juice
1 cup of olive oil
1 teaspoon of toasted coriander
1 Tablespoon of honey
5mg CBD oil per serving
Salt to taste
Avocado puree:
2 small avocados ripe
1/3 Tablespoon of sesame oil
1 Tablespoon of lemon juice
Sal to taste
Preparation:
In a small bowl clean all the flesh from the avocados discard all the skin and the seed, smash the avocados with help of a fork until you get small chunks, seasoned with salt, lemon juice, and the sesame oil, set aside cover with plastic and keep refrigerated.
For the vegetable salad wash all the vegetables and dry, with the help of a mandoline thin slice the vegetables and mix with the arugula.
For the dressing: In a blender, put the orange juice, coriander, CBD oil and honey and blend together, with the blender running slowly add the oil, until emulsified with the juice, seasoned and reserved.
With the masa form small bastóns around 2 oz each. In a flat top area and with the use of a tortilla press or any with a flat surface put the masa baston in between of a plastic bag (you can use a ziplock bag cut all the edges off) press the small bastón until you get the masa around 1 inch thick.
In a flat top comal in medium heat cook the masa around 2 min each side.
Assembly/Plating:
In a small pan, add a small amount of olive oil and quick fry the huarache on both sides, set aside use paper towels so they can absorb the excess of oil.
Smear the avocado puree on the huarache evenly, mix the vegetable salad with the dressing and top the huarache with a handful of salad; shredded the trout. And top the salad, finally add chunks of Ricotta cheese on top and serve immediately.