Hillary Clinton's had to endure a lot to prove she's "likable," despite being incredibly qualified and this country's best chance at salvation from the burning ash pit that is the GOP. She's been on SNL. She's been on Broad City. She's played with balloons for about five minutes longer than anyone should be forced to enjoy a balloon drop.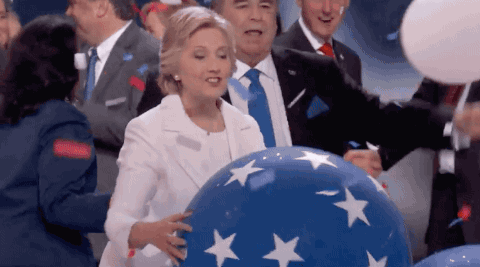 And now, she's been on Funny or Die's deadpan interview spoof "Between Two Ferns" with Zach Galifianakis.
Clinton, whose intro description reads "Had Pneumonia," fielded a handful of hard-hitters from host Galifianakis, on a wide swath of topics including, "How many words per minute did she type as Secretary? How does president Obama like his coffee? How would it feel to be the first 'girl president?'"
For a younger generation, she'll also be their first white president, Galifianakis deftly points out.
Previous guests of "Between Two Ferns" include President Barack Obama, Justin Bieber, Jennifer Aniston, Brad Pitt, and more. Obama was on in 2014, to take abuse from the host and promote the newly-launched federal healthcare exchange.
Just as she goes into her plan for the economy — making it work for everyone, not just those at the top of the heap —Galifianakis cuts to a word from a Tang-toned malignant mass in a suit.
"Are you down with TPP?" Galifianakis asks. "You're supposed to say, 'Yeah, you know me.'"
"Don't tell me what to say," she retorts. "Fine, lose,"Galifianakis mutters. "Country goes to shit." An aside that sends fear up our spines.
Watch the full interview, here: