Now that we officially made it out of 2018 alive, presumably with a little more to love around the middle, we can pat ourselves on the back for completing the final leg of the Eating Olympics: the New Year!
Glossy magazine covers have been showing their support of this time honored calorie-fest since October, featuring elaborate pie art, straight up pools of butter in various root vegetable purees, pumpkin pie spiced everything, and motivational headlines like " Time to Indulge!", " The Holidays Are Here!", "Top 40 Best Pies You Should Try!" And so we do. We eat all the pies.
https://www.instagram.com/p/BOfOvq1huMb
Then the shift comes. Right about…now. Your Instagram feed starts to feature hot yoga class discounts, skinny peppermint mochas, and the latest half-marathon registration. We are getting not-so-gentle reminders in our Facebook side bar that it's officially time to fit into our normal clothes again.
https://www.instagram.com/p/BNkj4lshhBn
Titles like "Fat Free Cookie Indulgences!" or "How Not to Eat an Entire Wheel of Grocery-Store Brie" start working their way across the once white chocolate-covered and candy cane-striped magazines in check-out aisles. And I totally subscribe. I read all of the articles and start to plan out my three sips of eggnog I am allowing myself at the week-after-next's post-holiday "holiday" party. I have to plan on eating all of the celery off of the vegetable platter before I even look at the bleu cheese dip. (I swear it looks at me first). I get it. Time to become a regular human being again instead of a calorie dumpster.
RELATED: Cheap And Easy: DIY 'Dirty Lemon' Cleanse
But, must we be so dramatic in swinging so far to the other side to overcompensate for our over indulgent eating?
I personally would love to be the gal that eats whatever she wants whenever she wants, but I am not a fembot, so yes, I fall into the category of winter wonderland of splurging. As a chef, and one that touts organic, colorful, nutrient dense, real, food fare, I can fall off the wagon around the holidays. Hard.
https://www.instagram.com/p/BJPHkqdgUA_
The fresh and leafy greens, herbs and edible petals aren't growing right outside my door, the chickens have stopped laying their perfectly imperfect eggs, and the ground is too cold to dig up the last of the root vegetable. The over indulgent dishes of winter and the holidays have found me.   
If I am being honest with myself, it is more of an emotional and lazy reaction I have to this season than actual desire for all of these rich treats. I can turn off my brain to the fundamentals of what brought me into the world of culinary in the first place; the challenges and creativity it takes to prepare tasty and healthful dishes has gone idle in my brain. For me, melting cheese all over everything is an "easy" way out. It is easy to rattle off holiday dishes that are sugary, delectably fattening, dense, without many — if any — nutritious elements. It actually feels like I am cheating when I menu plan this way. Congratulations, if you put heavy cream in absolutely everything. It tastes delicious and we can all be chefs! Woo hoo!
RELATED: Here's A Healthy Take On The Starbucks Unicorn Frappuccino
The truth is, my body actually enjoys dark green and cruciferous vegetables, 100% grass fed beef, vitamin D loaded mushrooms, blue green algae smoothies, all the teas, and bone broths, etc. It's just that my efforts becomes a bit scarce — and my creativity stifled — by buttered mashed potatoes and sparkly Christmas cookie pin boards! My online algorithm-based advertising is pretty spot on this last week especially. You are correct, Amazon ads. I do want a Groupon to those hot yoga classes, and that sparkly dress isn't exactly my thing, but I think Imma buy it anyway! And on top if it all, I don't feel all that great after those cookie exchange party binges!
https://www.instagram.com/p/BNAJHzFhA77
It is my job to create menus. I was feeling particularly uninspired, tired and gross, and looking for some inspo before I started to prepare a big holiday-esque menu for a big guest cheffing gig I have coming up early in the New Year. As per usual, I called my mom to bounce some ideas off her. We were lobbing different dish ideas back and forth and we realized that we were getting full and lethargic just thinking about them. Mom suggested we shift our perspective. She reminded me that my dinner is bound to bring a table of about 60 guests who are just as stuffed and depleted as we are by the overindulgences of the family gatherings and holiday parties. Sugar, fat and salt should perhaps take a supporting role. We went back to the drawing board. How do we breath some life back into my menus without making us feel sluggish just thinking about them?
Let's remember to feed our bodies and to replenish our health. Let's dust ourselves off, and hop back on that wagon of what we do know: seasonal, healthy, real, food.
Winter brings us flavors of citrus and its zest, pops of pomegranate pink, and sturdy berries, like currant and cranberry to liven up our cozy winter meals. Juniper, coriander and allspice brines, pressed seed oils and butters, salted, preserved and cured items. Eating seasonally in the winter means featuring these kind of items. It is the time to break into the properly stored, canned, jarred and preserved harvests and to demonstrate the sustainable nature of seasonal eating in the winter months.
RELATED: Hey, Vegans: You're Going To Want To Scream For This Cashew Cream
The veil has lifted. Winter is a time for introspective, and reflection, and of course, yes, a little joyful indulgences along the way. We celebrate this season with cozy and warming meals. Being together with friends and family. Usually around a table sharing something tasty. We have had our delicious creamy everything, sweets and treats galore, and how boring to monitor every little bite after that, right?
I am ready to bring light, bright, and still luxurious dishes to the table. Nourishing, warming, thought provoking, and a little exotic too.
So step aside refined sugar and empty carbs, I will see you next year. What I want now is a few dishes to muse over with great conversation, family, and friends. And —  oops! — a cocktail or two.
Grapefruit and Fennel Salad
(Feeds 4-6)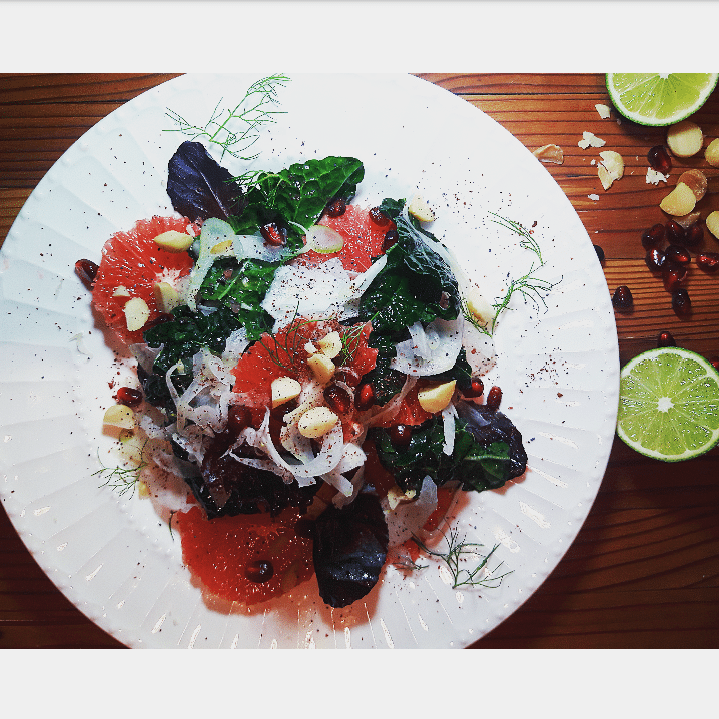 3 grapefruit, any kind you'd like. Peel and pith away, supreme or slice into disks. Remove any seeds you can.
2 fennel bulbs, sliced thinly, reserve fronds.
About 2 cups, very loosely packed, wintered greens and leaves; kale, Brussels sprout leaves, raddicio, anything sturdy.
Dressing:
2 limes
1 Tbsp honey
¼ cup avocado, olive, macadamia nut oil, or a blend
½ tsp sea salt
Whisk together, season to taste.
Topping:
¼ t sumac ( bulk herb, spice and tea sections typically)
¼ t poppy seed
hand full of pomegranate seeds
handful of macadamia nuts, roughly chopped
* NOTE once sliced, fennel will oxidize. Store in a bit of fresh citrus juice and cold water if you are not using immediately.
In a large bow, toss together grapefruit, fennel and fronds with your selected leafy and wintered veggies. Dress and garnish beautifully.
###
Chef Ryan Ross is a private chef who also runs Supper Corps, the name of her dinner party series that is hosted in uncommon spaces. She grew up in her mother's organic health food store in Virginia, got her culinary degree from The Natural Gourmet Institute of NYC, and currently resides with her husband in the Skagit Valley of Washington.
She is a recipe writer, product developer and has consulted for plant-based restaurants all over the world.
 She
 also 
won
 the "Light Makes Right" 
episode of 
Chopped
on the Food Network.