It's fitting that animals doing wild shit dominated Hot Mess the week the trailer for Planet Earth II was released. Of course, we shouldn't let the messes of our furry friends distract us from the messes of our fellow humans, who—as always—continue to do amazing, stupid, and dangerous things. Let's revisit the week in Hot Messes.
First, we learned of the Pennsylvania police officer who was accused of repeatedly masturbating in public. The officer admitted exposing himself, but claimed he was doing so to stay away after a long night shift. Sure thing, pal.
Next we met a true American hero. Yes, we know that term gets thrown around a lot, but how else can you describe a man who strips off his shirt, grabs a huge America flag, runs out into the year's deadliest storm, and headbangs into ripping wind and rain as Slayer's "Raining Blood" blares in the background?  Lane Pittman, we salute you.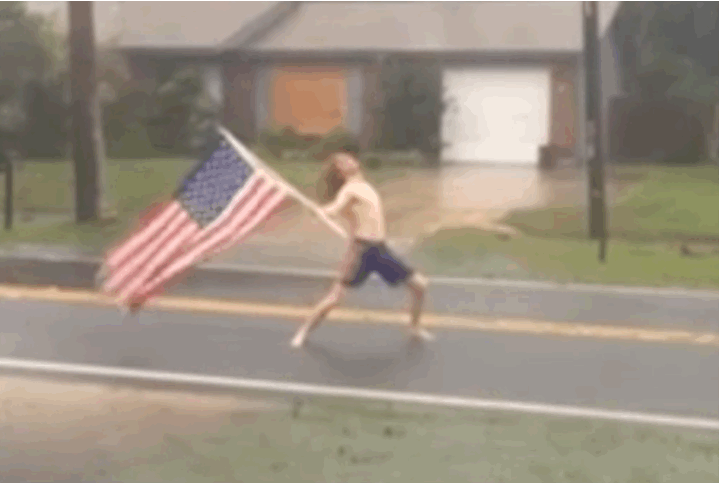 Nearly as heroic as Pittman was Alex Trebek, who accurately labeled self-proclaimed nerdcore rappers as "losers." The best game show host is a mean game show host.
There was also the woman who claims someone at Wendy's covered her four-year-old daughter's french fries with weed. While that's a super inappropriate surprise for a child (or anyone under 18) to receive, we know some people who would welcome such a seasoning on their fries.
Speaking of shitty things to do, a Baltimore-based artist stepped in dog poop near his exhibit at a New York Park and then reportedly demanded that an NYC Parks Worker clean the excrement from his fancy shoes. Go back to Baltimore, man.
Sadly, the week ended with the human meme Ken Bone engulfed in scandal. As it turns out, he loves nude pictures of pregnant woman and other porn, which is fair enough, but he also had some very dumb things to say about the leaked nudes of Jennifer Lawrence and the death of Trayvon Martin. To his credit, Bone issued a thoughtful and seemingly genuine apology to the New York Times, so his time in the spotlight may not be over just yet.
Moving on the world of animals, we learned about a crow who pulled a bag of meth out of the trash and left it on the ground, where the police found it. Snitch. Sticking to the avian theme, there was also news that loud, ancient birds probably used to wake up the dinosaurs every morning. Giant, terrifying reptiles: They're just like us.
Fears of a new Harambe situation surfaced Thursday when a gorilla escaped his enclosure at the London Zoo. Thankfully, the gorilla was tranquillized and recaptured before he was killed and turned into a meme.
And finally, we met a California man who learned the hard way that it's best not to interrupt bears who are having sex. 
Messy breakups, deranged antics, pets gone wild. The Internet car-crash you can't turn away from. For more Hot Messes, check out: Woman Claims Wendy's Served Her 4-Year-Old Daughter Fries Covered With Weed and "Suck It, Trebek": How Alex Trebek Fired Up All Of Nerdom With This One Word.