It's been 12 years since Kanye released "The New Workout Plan," and aside from feeling extremely old, we're also feeling extremely out of shape. What if we had followed Kanye's instructions? According to the College Dropout sensation, by now we might have been able to "pull a rapper, a NBA player or at least a dude with a car."

More than a decade later it's time to put Kanye's now not-so-new "Workout Plan" to the test. In an entirely necessary and overtly serious examination of the 2004 hit, we decide whether there is any truth behind Kanye's claims.
Let's start from the beginning:
"1, and 2, and 3, and 4, and get them sit ups right, and
Tuck your tummy tight and do your crunches like this"
We know. You're probably wondering why on earth you pay three digits to take ab fab classes when Kanye just told you everything you need to know about getting abs for free? Good question. Forget all of those over-the-top tricks your teacher is telling you makes the difference, we say keep it simple with Kanye.
"All the mocha lattes you gotta do Pilates
You gotta pop this tape in before you start back dating
Hustlers, gangstas, all us ballas"
Yet again, this has never been so relevant. To all the people treating themselves to a daily mocha latte with extra whip cream, Kanye's talking to you. After conducting a little research to back Kanye's theory up, we found that the calories in a standard mocha latte (240) is almost exactly equivalent to the amount the average 140 lb. person would burn in a Pilates class (200). Coincidence or stroke of genius? We're not sure.
On top of your calorie count, Kanye's also watching out for the "Workout Plan's" impact on your love life and self esteem. To ensure dating success, the rapper suggests you might want to workout a little first.
[Jill]
"Hi, my name is Jill, I just want to say thanks to
Kanye's workout plan. I was able to pull a NBA player
And like now I shop every day on Rodeo Drive
I just want to say, thank you Kanye! Woooo! Woooo! Woooo!"
[Lasandra]
"My name is Lasandra, and I just want to say
That ever since listening to Kanye's workout tape
I was able to get my phone bill paid, I got sounds and 13's
Put up in my Cavalier and I was able to get a free trip to Cancun
And what's most importantly is that I ain't gotta fuck with Ray-Ray's
Broke ass no mo'"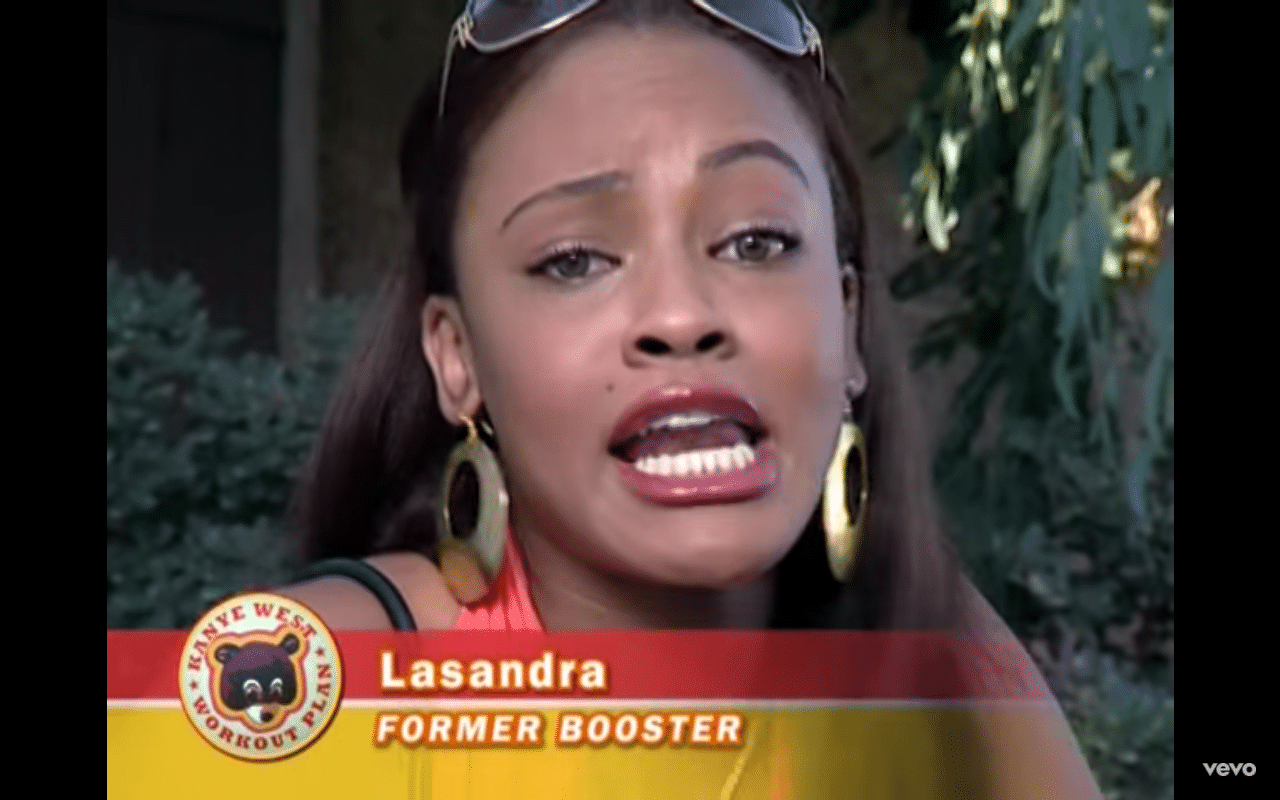 A successful workout regime would be incomplete without testimonials to back it up. Jill and Lasandra are the proof in the diet pudding that justify the methods to Kanye's madness. After implementing "The New Workout Plan," you too could be a shopping regular on Rodeo Drive and getting free trips to Cancun.
"That's right, put in work
Move your ass, go berserk
Eat your salad, no dessert
Get that man you deserve
It's Kanye's workout plan"
To top off a seemingly flawless plan, Kanye concludes that if you put in the work and stay off the dessert turning your body dreams into a reality is only a few sleeps away. To Mr. West we say, thank you.