While suddenly as a society we're faced with needing to make time for trying new ways to stay spiritually and emotionally-healthy, little items can make a big difference.
As the country prepares for social distancing and longer days indoors, individuals in self-quarantine might feel the effects of cabin fever compounded on top of the winter months that have just passed. 
From parents and caregivers to older adults staying put, the effects of COVID-19 on communities are felt outside, as well as inside America's homes. Many are struggling with how to stay busy (and sane!) during these uncertain times.  
Recently, The Fresh Toast spoke exclusively to Matthew Milèo, founder of luxury skincare company MILÈO New York, on the importance of self-care in trying times. 
Milèo shared that he felt meditation offered a remarkable break from trying times, suggesting that relaxing the state of mind could help the body as a whole. Read below to find out more of what he had to say about taking a moment to meditate and why it's so powerful: 
Q: Can you share with our readers who may not have tried meditation before, what should they know? 
"Many people think that mediation requires a dark, quiet spot with no distractions around. One of the things I've discovered about mediation is how versatile it can be. I like practicing 'active meditation' through activities such as swimming, running, or even cleaning. If you have a detailed oriented mind like myself, sometimes having a task to perform is extremely therapeutic and gives a helping hand to transcending into that state of higher consciousness. It's almost like you're distracting your body with a shiny new object so your mind can transcend to another dimension. I've had my best epiphany swimming laps in the pool or rigorously cleaning the kitchen sink!"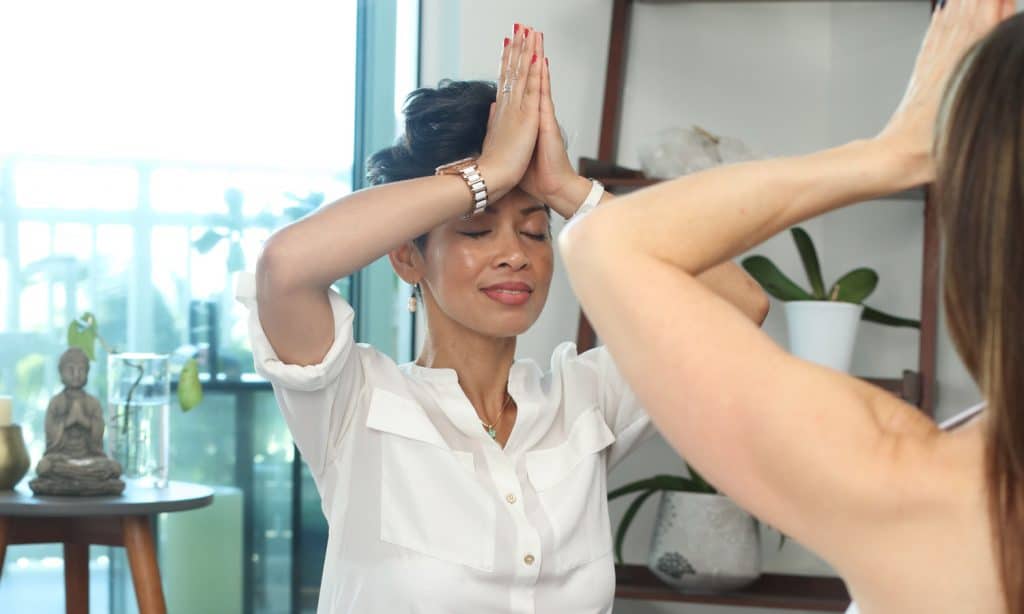 Q: Are there any barriers to meditation that should be shared?  
"While succumbing to a relaxed state of mind may sound incredibly blissful, for some, an overwhelming wave of anxiety or distraught emotion may arise. I like to call this the lotus effect, which is named after one of my favorite meditation visuals of thinking of a blossoming lotus in a murky pond.  
"The lotus flower is one of the most pristine botanical specimens of perfection. The petals are all shaped identical and each are lined with an emollient wax that beads off water and debris which always keeps it clean. In order for the flower to get to that blossoming state of fruition, its seed must travel through dark and dense muddy waters, weaving through other competing lotus stems and buds to get to the surface so it can open and release its beauty to the world.  
"Its journey is chaotic, convoluted, and uncertain. A beginning meditation practice is a lot like that —  journeying to the depths of the mind where unwanted thoughts and feelings have been suppressed within its own corridors, a sudden urge to open the mind's channel can release an emotional floodgate.
"The body reacts and signals a rush of nervousness, discomfort, fear, and even anger.  But with understanding, compassion, and patience, one's mediation practice can evolve just like the lotus flower, where one's mind will eventually break through the surface and the unraveling of one's true conscious can begin."
Milèo explained that while suddenly as a society we're faced with needing to make time for trying new ways to stay spiritually and emotionally-healthy, little items can make a big difference. He shared that when using his oils, he developed a ritual: cupping the hands over the nose and taking five deep breaths in and out. He recommends slowing down, giving permission to enhance the senses and meditating stress away.