This Thanksgiving muster up everything you're thankful for and immerse yourself in gratitude by celebrating cannabis wins both during the midterms and the many legislative efforts in the works. You can also be thankful for whatever bounty of food lays before you, especially when said food is enhanced by cannabis. Here are 6 ways to include marijuana in your Thanksgiving celebration this year and every year.
Start Early, But Regulate
Related: Cannabutter 101: How To Dose Your Baking Without Totally Baking Your Friends
As this holiday is really all about food, it's often a cannabis lover's favorite time of the year. It's the day to get serious about the munchies, so a wake and bake session is completely called for. But so is being on your toes to help out in the kitchen, and keeping up with conversations without looking like a stoner, especially if there is family there who buy into stigma. Use eye drops, sip some water and keep up. This is not a rookie holiday!
Vape The Day Through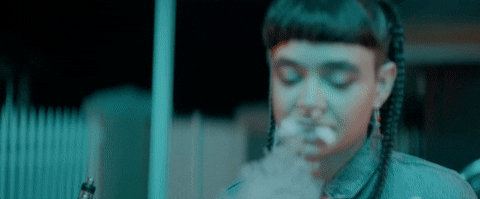 Vaping, though plenty effective, is usually a mellower high than smoking or outright dabbing. Plus, vape pens look like e-cigs and even though you have nothing to be embarrassed about, being discreet could go a long way in keeping quips at bay from the stauncher relatives who grew up with the belief that weed is inherently bad. If you want to broach the topic, see the next tip.
Start A Conversation About Local Laws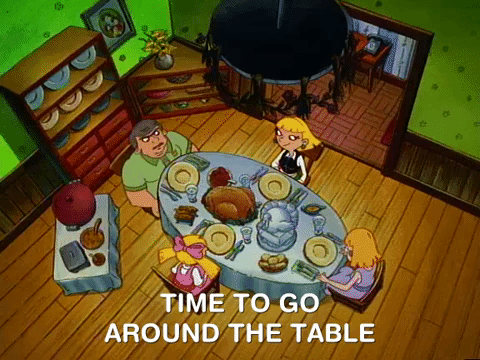 Though politics at the table aren't always welcome, they happen. Why not see what the climate is from the cousins to the grandparents by bringing up your state's latest moves in the green wave that's washing over the country. If you live in one of the states that has no medical law even, there's guaranteed to be a NORML chapter somewhere that's doing its best to steer things in the pro-cannabis direction. Read up and discuss.
Exit A Conversation About All Other Politics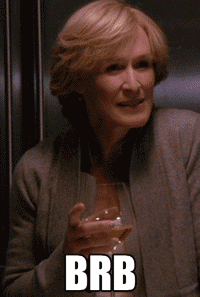 If you're halfway through eating and politics have taken a turn to the far left or right or whichever direction brings out your passionate side you have two choices, dive into the ring and help escalate the discourse or bring it down a notch if a relative whisperer or excuse yourself for a "bathroom break" and take a few hits off a pre-roll or vape pen outside. It will reset your own perspective and give you the deep breaths needed to not lose your cool.
A Pie For Some, A Pie For All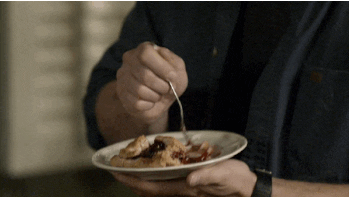 Related: Cannabis Basics: 8 Ways to Enjoy Marijuana Without Smoking It
Whatever dish you're making, from candied yams to stuffing to holiday pie, make two. Make one that's infused with cannabis in amounts that equal 25-30 mg per generous helping. There's already the tryptophan in turkey, so you don't want anyone falling asleep, at least not until the meal is finished. Be sure that everyone knows which dish is which, that they are clearly labeled and that the medicated one is out of children's reach.
Make Room For Dessert
https://giphy.com/gifs/matthew-lawrence-K4gbxUlRlr5EA
Bringing tincture or a vape pen to the gathering is highly recommended for a variety of reasons, but one of the best uses is for during the shift between scarfing down a table full of food and eating the array of desserts made at home or brought by thoughtful guests. You might want to sample one of each or at least a few, so be sure to have a handy, fast acting way to ingest some munchie inducing cannabis between rounds.