Homemade crackers are one of those things that ruin store bought stuff for life. Once you make them, it's too easy to force yourself to whip them up than it is to drag ass to the store. Plus, when you add a generous drizzle of weed olive oil or butter, you make an incredible party snack that no one will forget any time soon.
Crackers are a simple recipe to execute, and are adaptable to what you have on hand. To make them your own, simply swap out cheeses, oils, and herbs/spices at your leisure. Practice makes perfect, but once you try it a few times, you can execute them under pressure for last minute entertaining or interesting dinners that use up odds and ends.
This go, I used a hunk of unique-tasting Casera Valtellina, with it's nutty and milky funk similar to a raclette. It's an Italian mountain cheese, from a region where sometimes you can smell and taste the shared border with France and Switzerland. Herbs I keep on hand both dried and fresh, so a healthy dose of barely-anise tarragon accents the cheese while lemony thyme rounds out the weed flavor.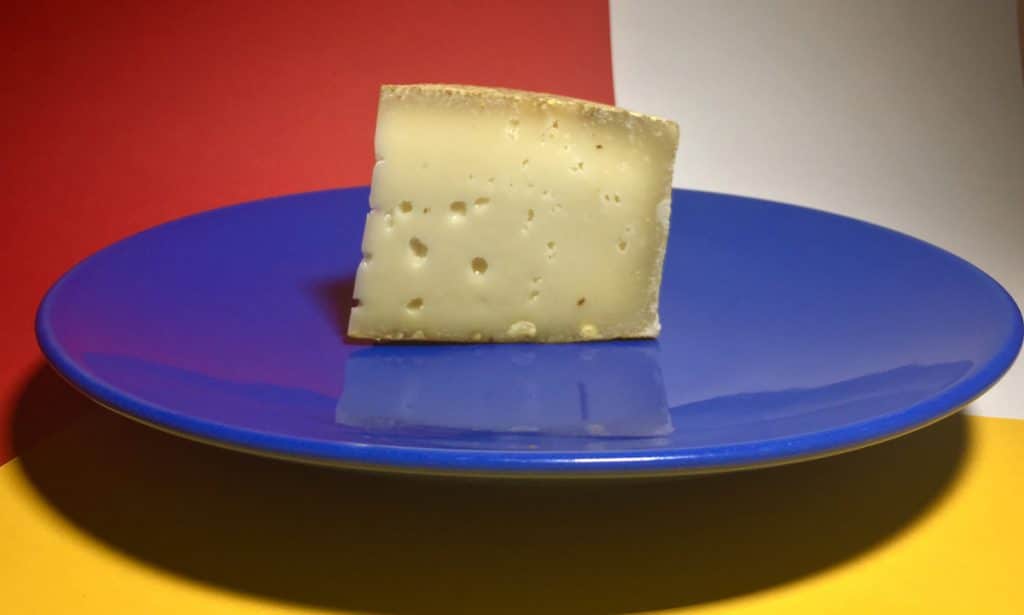 Cheese Crackers, Casera Valtellina + Tarragon With Garlic Stuffed Olives
2 ¼ cups flour
1 tsp salt (reserve half for sprinkling)
1 cup grated Casera Valtellina cheese
¼ cup chopped herbs (tarragon, thyme, parsley)
pepper
2 Tbs unsalted butter or cannabutter*
3 Tbs olive oil or weed olive oil*
½ cup water
½ cup chopped olives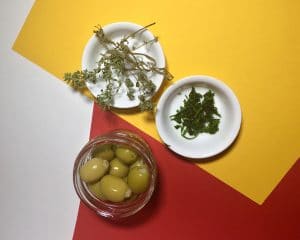 Preheat oven to 325 degrees. Mix dry ingredients (first five) in a bowl. Melt butter (not in microwave if it's got weed in it) and mix with olive oil. Pour into dry ingredients and mix gently with a fork trying not to overwork. Add water in four parts, gently kneading with one hand.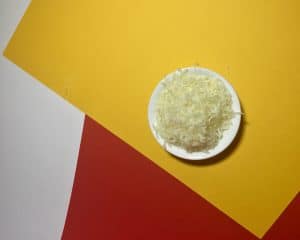 Dump mixture on a piece of parchment or a slipmat and roll to ½" thickness with a rolling pin. Chop olives and press into dough. Use a pizza cutter to cut the dough into squares. Sprinkle with remaining salt.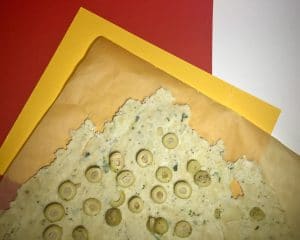 Bake for 12-15 minutes, less for chewier, cheesier crackers, more for crispier, more oily crackers. Always rotate once and keep a very close eye on this, not only is the weed you put in on the line, cheese can burn in seconds. Allow to cool completely before digging in if you can stand it.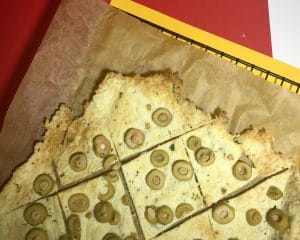 *Weed Olive Oil Or CannaButter
Decarboxylate 3.5g of finely ground cannabis at 225 degrees for 20 minutes in a tightly sealed, oven safe container. Put in lidded mason jar or vacuum sealed bag with cannabis and 1 stick of unsalted butter or four ounces of olive oil. Heat in water bath just under boiling for at least 1 hour. Strain and chill to use in recipes.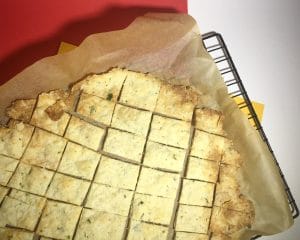 These are amazing with other types of cheese for a cheese-ception, or as a topper for soups and salads. I also just like to eat them as is and am not sorry one bit.
Taper the potency to your needs, it's smart to make party goods for guests on the chill side, since people often overdo it, or alternatively, yummy if you want to make on the weak side so you can wolf the whole batch Han Solo. Bake ahead for big parties, two batches will make you about 100 crackers. Don't like Casera cheese? Try roasted garlic and Parmesan or Swiss and rosemary, the combinations are endless!
Related Stories
[soliloquy id="24172″]