For anyone looking to add a little extra green to their salad, how about some fresh cannabis leaves?
The flavor depends on the particular strain that you're using, according to New York City chef Nick Testa, but they're always herbaceous. He uses them as he would any other green, like kale, arugula or watercress.
"For this particular salad, I use something with a citrusy leaf, like either a Sour Diesel or Kosher Kush," says Testa.
The leaves of the cannabis plant have no psychoactive properties; you're simply taking them for their flavor notes and their terpenes, which is the essence of the marijuana leaf, the flavoring that comes from it.
Testa says he lives in a predominantly Greek neighborhood in Queens, where good feta and Kalamata olives are ubiquitous.
"There are dozens of different kinds of feta to experiment with, according to your taste. Before I moved to the  neighborhood six years ago, I'd had Greek salads in diners, but I didn't really start eating them regularly until living here. Now I eat at least one a week.
I wanted to incorporate those ingredients into a spring salad, and walking past a display of beautiful, fragrant pack of strawberries at the market — that quintessential spring aroma — inspired the dish. It's got sweet, savory, salty and umami notes notes as well as some of the classic Greek flavors."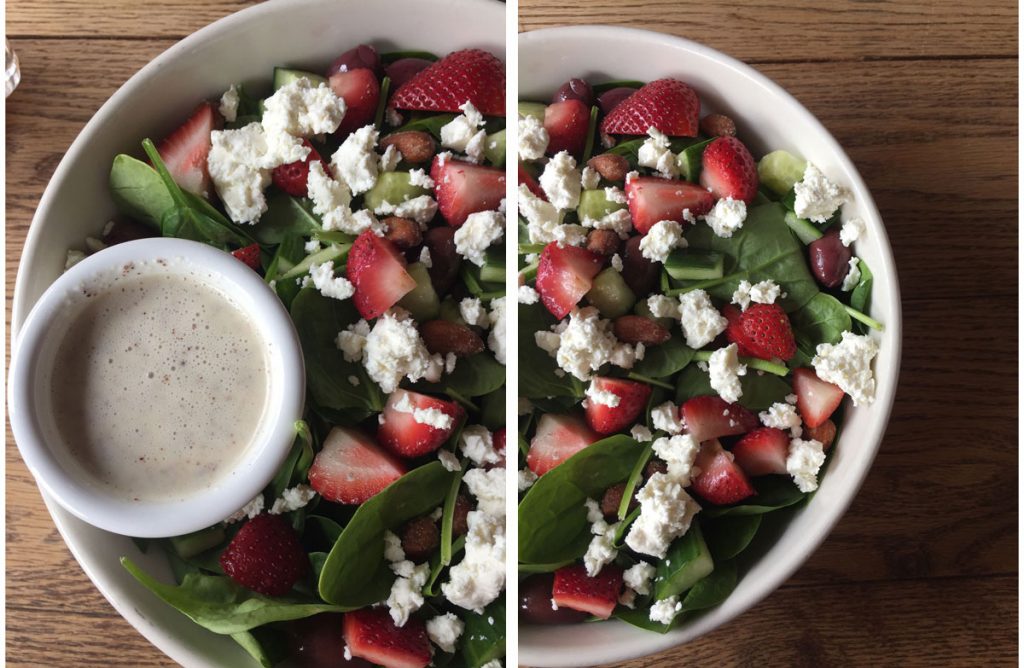 Strawberry Salad with Coconut-Poppy-THC Dressing
By Nick Testa
baby spinach greens
Kosher Kush fresh cannabis leaves
feta cheese
Kalamata olives
smoked almonds
strawberries
cucumber
poppy seeds, for garnish
Coconut-THC Dressing
1 cup apple cider vinegar
⅓ cup agave syrup
⅛ cup Dijon mustard
1 shallot
1 ½ teaspoons salt
1 ½ teaspoons pepper
1 ¼ cup THC-infused coconut oil* (recipe follows)
¼ cup poppy seeds
Add the vinegar, agave syrup, mustard, shallot and salt and pepper to a blender and blend to a puree. With the machine on high, slowly pour in the coconut oil until blended. Turn the machine down to low and add the poppy seeds until blended.
*THC-Infused Coconut Oil
1 ounce marijuana bud or trim
1 pound coconut oil
Preheat oven to 200°. Spread broken up marijuana onto a sheet tray. Bake marijuana for about 20 minutes. Combine melted coconut oil and marijuana in an ovenproof baking dish covered with a lid or aluminum foil, and set it in a large baking dish or roasting pan. Place in the middle of the oven and pour 1 inch of hot water into the baking dish. Raise the oven temperature to 250 degrees and let the oil cook for 3-5 hours, depending on desired potency and intensity of marijuana flavor. Remove from oven and strain through cheesecloth. Squeeze all the oil out into a small glass container and discard the marijuana.