Oh, don't get me wrong, I love the winter. Just in someone else's dream. You see, I'm less fond of the slop and the slipping on the ice leading to a fall…or worse! It gives me something to complain about. When a truck splashes a pedestrian — speaking in the first person of course — well, it makes me want to drink. Or at least to make a drink.
When I'm weaving tales of woe, the last thing I want to be is thirsty. But not being a heavy drinker has its benefits and failures. I would have to explain how I came to use weed and liquor in the first place and unless you were in New Orleans at the Pharmacy Museum, you'd never know.
So it stands to reason that if the weather is cold outside, I want to get warm. And the best way to do that is with drink and a fine Indica Strain. I want couchlock. I want to feel like a warm cashmere blanket is bathing my bones in thick heat. There is much to be said for this feeling and it is all good.
The Difficulty of Winter Walking is more than a metaphor; it is the name of this cocktail:
The Difficulty of Winter Walking
Ingredients:
2 oz. Cannabis Infused Aged Jamaican Rum (I used OG Kush-decarbed at 240 degrees for 45 minutes- for my Cannabis, then infused for a period of time).
For the rum element, I like my rum to be funky from the use of a Dunder. What is a Dunder? It's a wild yeast that lives in the dunder or muck pit. Sort of like a sourdough only much funkier. No way do you ever want to see one. But the rum? It's salubrious!
4 oz. Grilled Pineapple Juice- Grill slices of Pineapple on a grill and cool, then juice. Charred is great!
½ oz. Freshly Squeezed Lemon Juice
½ oz. Raw Honey Simple Syrup
2 oz. Sparkling Water
Pinch of Sea Salt, like Maldon (flaky)
Coconut Water Ice — just like it sounds: freeze a tray of coconut water into ice. Do it now!
Angostura Bitters
Prep:
To a Collins Glass: Add the Coconut Water Ice. Add the OG Kush infused Jamaican Rum to a mixing glass with the 2-3 cubes of regular ice- save the coconut water ice for the cocktail. Add the Grilled Pineapple Juice. Add the Lemon Juice. Add the Raw Honey Simple syrup (1 cup raw honey to 1 cup of hot, not boiling, water. let cool.). Stir until chilled. Add the Coconut water ice to the Collins Glasses. Top with your mixture of rum, pineapple and honey/lemon juices. Finish with a splash of Sparkling Water and the Angostura Bitters. Top with a puff of Sea Salt and serve.
Now, for my next trick…
Here's a punch I named after my most favorite bar in Miami Beach, (so far anyhow): The Broken Shaker.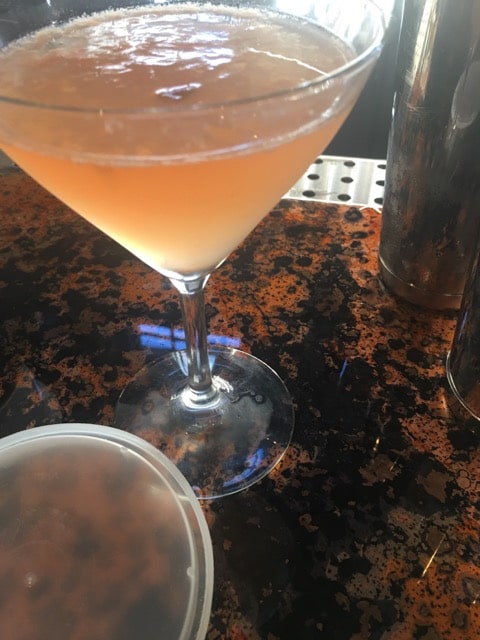 The back story is my family owned a home on Hibiscus Island in Miami Beach. And it was a grand Spanish style home that sprawled over several acres of land, which is a lot for anyplace in this area. The Broken Shaker is located in the Freehand Hotel and the designer of the original property designed my grandparent's home. It's uncanny for me to enter this hotel/hostel because from the moment that I entered the door of the Broken Shaker Bar, I felt right at home. I'll name this punch after the name of my grandparent's home: Shangri-La.
Shangri-La Punch. The tour boats still go in front of the mansion today saying it was the home of the founder of Geritol and Serutan. But no more. Too bad, but time goes on.
The use of Fruitations Tangerine Soda Syrup is brilliant because the second you open the top, the punch is absolute perfection because of the utter quality of the ingredients.
Shangri-La/Broken Shaker-style-Roasted Fruit and Rum Punch
1 bottle Jamaican Rum infused with the strain of your choice
4 bananas
2 pineapple
4 pink grapefruit
1 orange
1 bottle Fruitations Tangerine Soda and Cocktail Syrup
1 Bottle Seltzer water
Angostura Bitters
Couple pinches of sea salt, like Maldon
Fresh Thyme
Prep:
Pre-heat an oven to 350.
On a silicone oven proof tray, add slices of the bananas, pink grapefruit slices, the pineapple (peeled and cored and sliced) and the orange. Roast for 30 minutes, let cool and then muddle into a punch bowl, try to get as much juice into the punch as you are able. Augment when necessary with freshly squeezed juices (they don't appear in the recipe- so add as needed, depending on how many you are serving)
Add the Fruitations Tangerine Soda and Cocktail Syrup. Add the Seltzer and the Angostura Bitters. Top with the sea salt and a bit of fresh thyme- no wood. It's bitter!
Never more than one per hour please!
###
Warren Bobrow, a.k.a. The Cocktail Whisperer, is the author of four books, including his latest: Cannabis Cocktails, Mocktails and Tonics.