The only thing worse than setting up Christmas and holiday decorations is the long and tedious process of tearing them down. It's understandable then when a lot of people simply throw them in a box and stow them away for an entire year.
Even though that is the easiest and fastest way of getting on with your life, poorly stored decorations only make it that much harder to decorate your place when the holiday season returns 12 months later. Here are the five most useful things you can do when it comes to packing up Christmas:
Take pictures and use labels
RELATED: 7 Christmas Tree Alternatives That Will Make The Holiday Weird
If you're not the type of person who gets creative every time Christmas comes around, take pictures of your holiday decorations and store them away. This will save you some time next year, helping you remember the purpose of each light and decoration. Marking boxes with their contents is also a great way of saving your sanity and tons of time.
Wrap your lights
Since string lights are the most annoying and problematic Christmas decoration, you can wrap them around large pieces of cardboard. This method will prevent tangles and will also preserve their shape. The pieces of cardboard can also be labeled according to the lights they're holding, so you'll have an easier time setting up your decorations and differentiating the lights.
Use plastic bags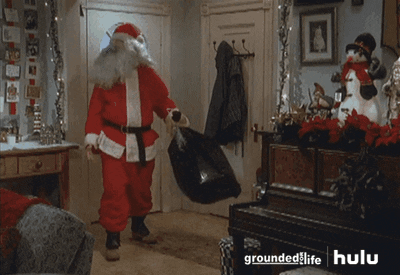 Plastic bags are useful for resistant items like tree bases and lights, allowing you to put each item on a separate bag and avoid getting them all mixed up and tangled. Label each bag with a marker and stow them all away; by the time Christmas comes back next year you'll only have to open your bag and get to work.
Carefully pack your ornaments
RELATED: This Is When You Should Take Down Your Holiday Decorations
Tree ornaments are very easy to break and dent. For storage purposes, the best thing you can do is buy a large container with separators or make some of these yourself with cardboard, packing the items carefully so that they don't get damaged. You can also buy fabric boxes to store these items since they're softer and pretty cheap.
Take care of your fake Christmas Tree
https://giphy.com/gifs/giffffr-2XflxzDTUtH7VxyfoT6
Artificial trees are great but they need to be taken care of if you want to use them several times. Avoid cramming the tree into the original box and buy a tree storage bag or wrap the boughs of the different sections with strong and durable tape. This method will preserve the shape of the tree and will allow you to use it for many years to come.