Some people in Oregon are not happy that they must now join 49 other states (get with it, New Jersey) in being allowed to pump their own gas. Not only that, they seem to be downright terrified over the prospect of getting out of their cars. They can't seem to wrap their heads around the Wes Craven-like terrors that await them, like gas fumes, lurking transients and kidnappers. Oregon: so progressive in passing marijuana legislation, but not gas pumping.
KTVL news in Medford, Oregon, posted on their Facebook page a story letting residents of rural counties know they'd be allowed to pump their own gas starting January 1, and for some, it was the worst news they had ever heard. This string is an epic one, so clear everything you had planned today and dig in. It's pure gold.
Comments include:
"I don't even know HOW to pump gas and I am 62, native Oregonian…..I say NO THANKS! I don't want to smell like gasoline!"
"Not a good idea, there are lots of reason to have an attendant helping, one is they need a job too. Many people are not capable of knowing how to pump gas and the hazards of not doing it correctly. Besides I don't want to go to work smelling of gas when I get it on my hands or clothes. I agree Very bad idea."
https://giphy.com/gifs/Ls1fSakB0r7KU
"Disabled, seniors, people with young children in the car need help. Not to mention getting out of your car with transients around and not feeling safe too. This is a very bad idea. Grrr"
"Attendant-pumped gas is one of those long-time Oregon things, like no sales tax, that has always made this state unique. Native Oregonians are proud to be different from the rest of the country – and to not stink like gasoline all day after a fill-up."
"It is a tradition in our state. It is just what we do. If you don't like, don't move here, then you can keep pumping your own gas. We are not lazy or privileged…we are just traditionalist. "
The world clapped back in a big way. Here are just a few highlights. Grab your popcorn, kids.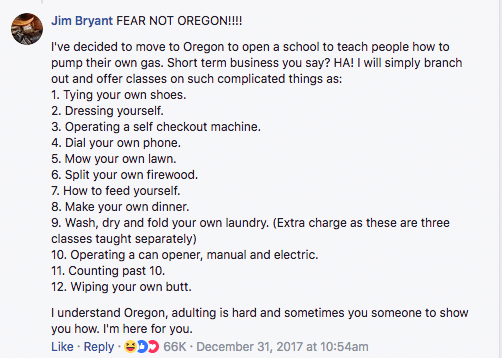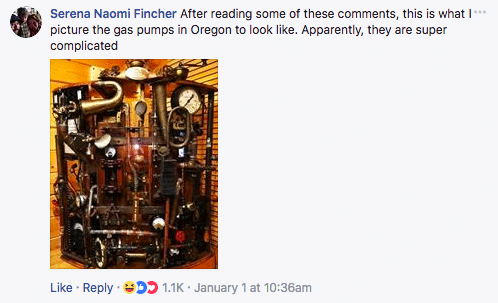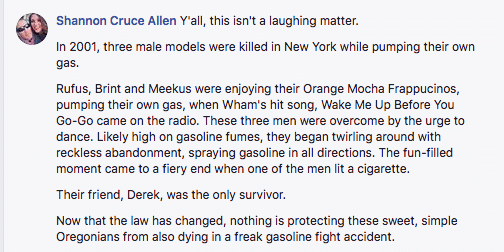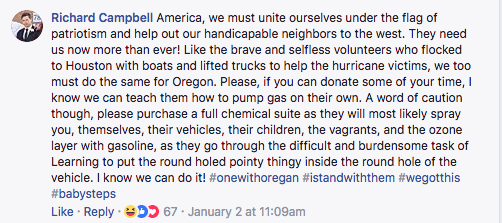 So, why can't Oregonians pump their own gas? There's a policy that lists 17 reasons, including fire hazard, lack of institutional control and airborne toxins. Many of the reasons are just downright head-shakers, like self-service contributing to unemployment, and station attendants not being able to see customers when the weather is bad.
Ironically, Oregon's motto is Alis volat propriis, "She Flies With Her Own Wings". Surely, she can also pump her own gas.