The weather is getting warmer, and you know what that means — time for a good margarita. Unfortunately, all too often, the classic Mexican cocktail is butchered by Americans, who tend to lean on overly-sweet, pre-made mixes when they make them at home. Well, not this year — I have you covered. I recently visited Mexico, where I enjoyed a lesson on how to make 
classic tequila cocktails
.
Here are some of the drinks that Amanda Gunderson, West Coast Brand Ambassador for 
Altos Tequila
, recommended we make back home, plus some other pro tips I picked up from a bartender in Mexico City that should suit any kind of tequila fan.
The Aguacatona
https://www.instagram.com/p/BTr5a48hic0/?taken-by=rachelkrantz
I had this drink twice in Mexico City, and it was absolutely delicious — I mean, avocado in a cocktail, can you really go wrong? Here's the recipe: 
1/4 Avocado, mashed

1 oz Pineapple Juice
1 oz Tequila
½ oz Agave (or none, if you like your cocktails less sweet, like I do)
½ oz Lemon Juice
The bartender in Mexico City I talked to suggested tasting the mix to make sure it's balanced before you add the tequila (and added that it's always best to do this, since booze is the most expensive ingredient to throw out if you need to start over) — it will be a little diluted with ice and booze, so it should be slightly sweeter than you would want the drink itself.
Shake it up, and double strain it, which looks like this: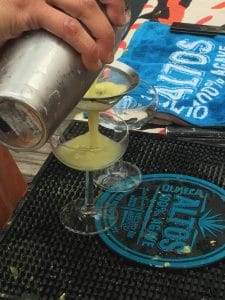 Garnish with pepper or cardamom. Pro tip: you can get that pretty, straight line of pepper from holding a knife cover over the glass and sprinkling alongside it, like so: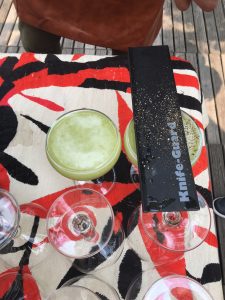 And just like that, you have one tasty and fancy-looking drink.
Tommy's Margarita 
It's a classic for a reason. Again, if you like your drinks less sweet, feel free to experiment with using less agave. Another note from the pros — not all agave sold in stores is actually 100% agave, but might be a blend with sugar or maple syrup, so be sure to read the label!
½ oz Agave Nectar

1 oz Fresh Lime Juice
2 oz Tequila
Shake and fine strain to rocks with half-salted rim. Garnish with a lime wheel.  That's it! See, no pre-made nasty mix needed.
Altos Fresh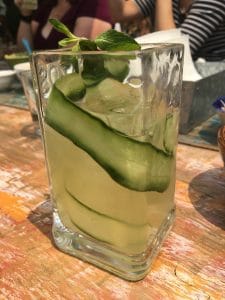 This is a great afternoon cocktail, refreshing and a little sweet for warm weather, like a green tea cucumber lemonade.
2 oz Green Tea

1 oz Cucumber Syrup (cucumber and simple syrup)
1/2 oz Lemon Juice
A small dash Pernod liquor (or a little more if you like more anise flavor)
2 oz Tequila
Shake it up, and double strain it, like so: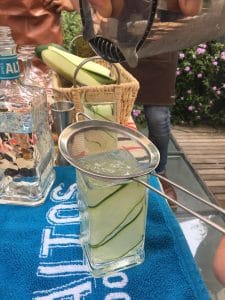 Peel a cucumber to create a wide, pretty ribbon to line the glass, then garnish with mint.
Crafted Paloma 
Another delicious Mexican cocktail standard, if you love Greyhounds, Palomas are their sexy Mexican cousin.
2 oz Altos Plata 

2 oz Fresh Grapefruit Juice
1 oz Fresh Lemon Juice
½ oz Agave Syrup
Pinch Salt
Crushed Pink Peppercorns
Rim a collins glass with salt and crushed pink peppercorns. Lightly shake all ingredients and strain into the glass. Fill the glass with ice, and garnish half moon grapefruit. 
Banderas
OK, so this is more of a deconstructed cocktail, but it is very celebratory of the Mexican flag, and a delicious and traditional way to enjoy some good tequila. Honestly, I've found my hangover is much better if I just stick to some good Reposado and lime juice (plus plenty of water). 
1 Shot Lime Juice (pure or with a little agave)
1 Shot Tequila
1 Shot Sangrita*
*Sangrita
This Sangrita recipe makes approx 1 ltr. (40 servings), so feel free to adjust way down if you aren't throwing a party.
750 ml Tomato Juice
100 ml Lime Juice
100 ml Lemon Juice
Dash Tabasco
Dash Grenadine
2 Pinch Sea salt
2 Pinch Ground Black Pepper
Add all ingredients into a large jug, stir well and store in a clean 1 ltr. glass bottle in fridge until ready to serve.
Party safe, and may the tequila be with you!
Images: Rachel Krantz