It's fitting that this cocktail made its national debut during a time of political discourse. But unlike real life, this drink is filled with sunshine and unicorns, like a cozy sweater on a cold winter day. It's creator, Jesse Cyr, recently moved onto the regional finals of the Bols Around the World — one of the world's largest international bartending competitions, now in its ninth year.
"When you think of winter flavors, baking spices usually come to mind," says Cyr.
Allspice, cinnamon, and clove fit perfectly into cocktails during the cold weather season. They almost have a warming effect on the body by subconsciously reminding you of baking holiday desserts with friends and family.
"The orange clove syrup in Stay the Course not only gives the proper amount of sweetness, but also gives you that warming effect. And adding the cardamom bitters really takes the spices to a more complex level."
Stay the Course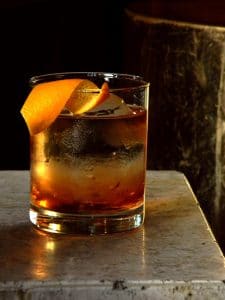 By Jesse Cyr, Rob Roy (Seattle WA)
2 oz Bols Barrel Aged Genever
0.25 oz orange clove syrup
2 dashes Angostura bitters
1 dash Cardamom bitters
Stir all ingredients in a mixing glass and pour over a large ice cu be in an Old Fashioned glass. Garnish with an orange twist.
Orange clove syrup
3 Tbs whole cloves
Peel from 1 whole orange
3 cups sugar
1.5 cups water
Heat the cloves in a sauce pan over medium high heat until fragrant. Add the water and bring to a gentle simmer. Add the sugar and stir until dissolved. Remove from heat and pour entire contents of pan into a heat proof vessel containing the orange peels. Let the syrup sit in the vessel for 2 hours. Strain out the cloves and orange peels, bottle, and refrigerate.
Cyr says he kept the cocktail simple in order to showcase the base spirit.
"I love how the Bols barrel aged genever has bright citrus notes and some baking spices from the French Limousin oak it's aged in. I felt that an orange clove syrup would really help to highlight those flavors. And using just a dash of cardamom bitters gives a nod to the history of Lucas Bols and how cardamom was one of the first flavors of liqueur that they distilled in the late 1500's."
Cyr heads to the regional finals March 20.
---
[gravityform id="13″ title="false" description="true"]