So many people go to Super Bowl parties for the food and booze, but this year the lack of interest in the actual event can blamed on more than one thing. As the NFL continues to get flamed, and with no imminent reform in sight, it's gonna take more than the usual chips and salsa to get people to watch this Migos-less halftime. Busting out the good snacks is the duty of any host, but giving them something special to dip is taking it to the next level, and this year, you're going to need it.
Infusing a cheese sauce with cannabis isn't as hard as it sounds—using the basic French cooking technique of creating a roux to build your sauce enables a goopy goodness that no one will want to pass on. Dosing this cheesy dip will keep the party going, just as long as you don't make it too strong. If you're not careful you'll end up with a house full of couchlocked people, so make sure everyone knows about the included THC and projected dosage.
RELATED: Set Your Watches To Party Time With These Marijuana-Infused Churros
Cheese dips can be thick and stringy like fondue, or slightly more fluid like a bean dip. There's even some that are the consistency of gravy, like cheese whiz sauce. This one is just right, runny enough for dipping veggies, thick enough to coat anything you want to cover it with. You can start this the day before, but it comes together pretty quickly if you need to make a fast party dip.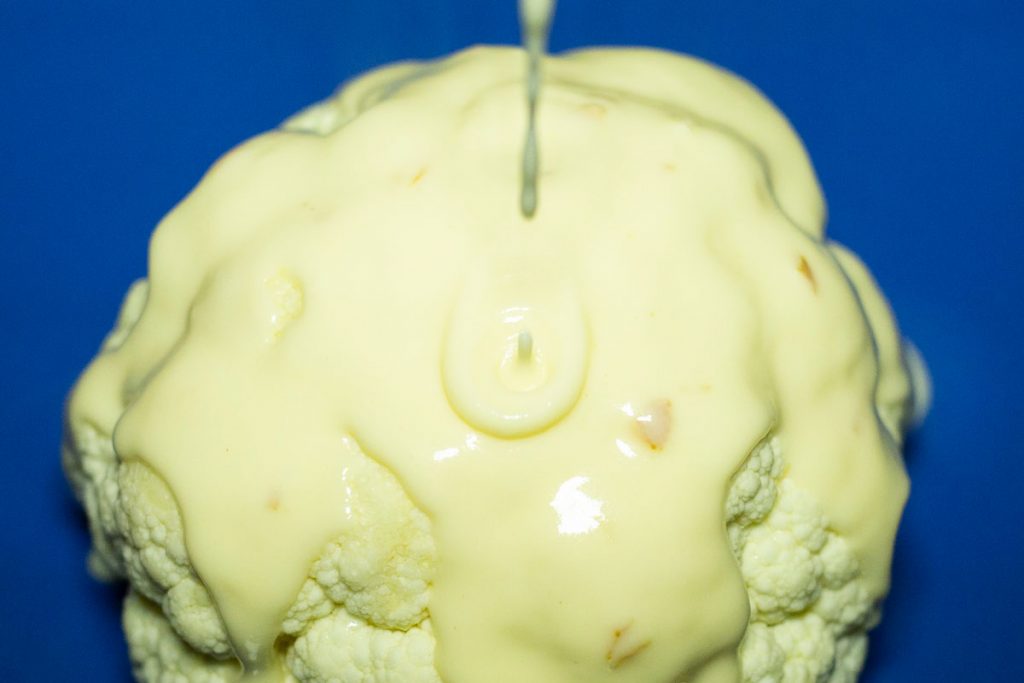 Infused Smoked Gouda Cheese Sauce
Inspired by The Takeout's A.E. Dwyer
Estimated 150mg of THC per pot, 12-20mg per serving
Ingredients
2 cups shredded smoked gouda

1 cup milk

2 Tbs flour

3 Tbs cannabutter*

1 tsp mustard
Steps
Starting with a roux, gently melt the cannabutter on the lowest heat possible. Add the flour and cook very gently until it makes a thickened roux, don't let it get any color, too much heat will compromise your butter.
Once you have a good roux texture, briefly turn off the heat and mix in the milk. Return to the heat source, and add the mustard, then the cheese, one handful at a time, allowing each to melt in completely.
The sauce will stay liquid for 15-20 minutes, you can keep in a mini slow cooker if you want to keep it warm for longer periods. It also reheats beautifully. A splash of milk is all that's needed to help it stay the right texture if it's seized up.
*Cannabutter
RELATED: 5 Ways To Figure Out THC Dosage With Cannabutter
Decarboxylate 2 grams of finely ground cannabis or .25 gram of concentrate. Put material in lidded mason jar or vacuum sealed bag with cannabis and one stick of butter. Heat in water bath just under boiling for at least 1 hour. Strain and cool to use in recipes.
We used this delicious cheese to cover an entire cauliflower, and it was definitely a seaworthy party snack. Put out other tasty goodies to dip besides salty chips and you won't be let down, like blistered shishitos—with gouda they make a great combo. Try mixing it up with other cheeses. Cheddar and jack work great and lend themselves to adding things like beans, ground beef, or a can of roasted tomatoes for some zip. No matter what you drizzle this cheese on, it will be a bigger hit than the commercials.