With COVID-relief efforts out of the way for the moment, Congress will have a chance soon to tackle marijuana reform.
Congress just passed a massive $1.9 trillion COVID-relief package that will put more cash in the hands of Americans ($1,400), extend unemployment benefits, and make other much-needed advancements designed to bring the country back from the grave.
The U.S. Senate, headed up by Majority Leader Chuck Schumer, did its part last week — passing the bill in a vote of 50-49 — and now the House has come through. The bill now heads to President Biden for a signature.
So, what's next? Well, we could finally see national marijuana reform start to get some attention from those Democrats dedicated to the doobie. It's likely the next hot issue for the Senate.  
At the beginning of the year, Schumer, along with two other Senators, vowed to make federal marijuana legalization a priority in the new session. "In the early part of this year, we will release a unified discussion draft on comprehensive reform to ensure restorative justice, protect public health and implement responsible taxes and regulations," the Senators said in a statement. As far as the Democrats are concerned, the goal is to bring pot prohibition to an end once and for all in the United States. After all, more than half the country has legalized in some form or fashion. But they'll have to act soon because legalizing at the federal level will be no easy task.
Although the Democrats control both Congressional houses, they are destined to face a slew of challenges when it comes to legalizing weed. For starters, President Biden isn't sure yet whether a full-scale taxed and regulated market is the way to go. He'd rather see more research before taking such a bold leap. So even if Congress can get a bill through the legislative grind, it could face some resistance at the very top. Getting it there is going to be difficult enough. Sure, Democrats have majority rule, but it is by such a thin line that any resistance could jam them up. In short, Democrats are going to need some Republican support to go all the way.
RELATED: Mitch McConnell Plans To Run Pro-Marijuana Democratic Majority Out Of Senate In 2022
But time is of the essence. The marijuana miser known as Senate Minority leader Mitch McConnell of Kentucky is already putting together plans to boot the Democrats out of control in the midterms. He told Politico last month that his primary goal this year was to put Republican candidates on the ticket that could win in November 2022. "The only thing I care about is electability," he said. If he is successful, which is possible, Democrats would forfeit their power back to Republicans. And as we've seen in the past, having them in control never bodes well for pot.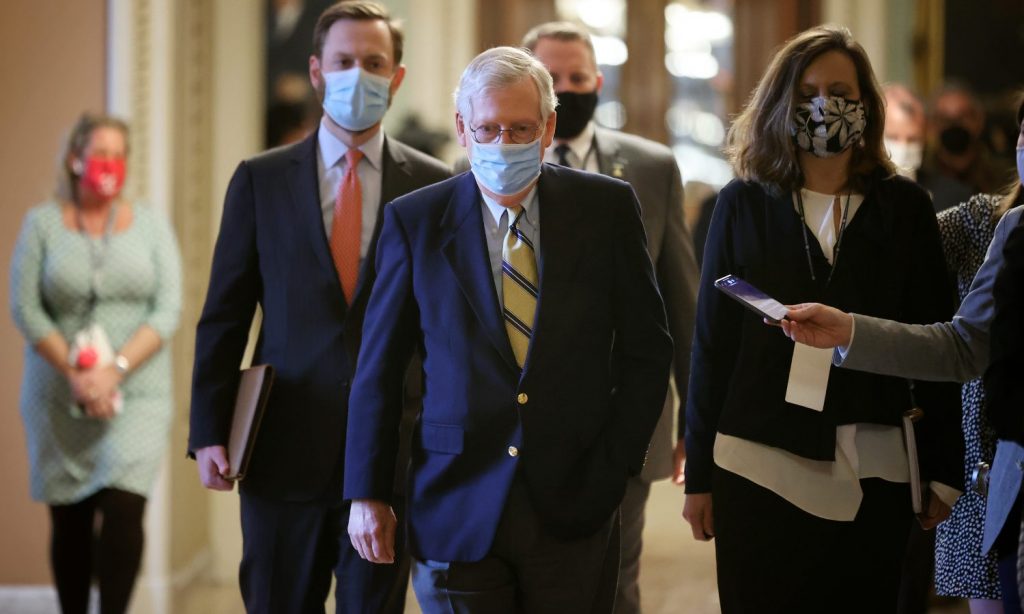 Schumer and crew will likely introduce pro-pot legislation by around April. However, unlike years past, Democratic controls will ensure that any marijuana-related bill that gets filed will get a fair shake in committee. They would almost certainly go before the full Senate for a vote. But so far, Democrats have been forced to work all of their magic by way of budget reconciliation, limiting their legislative reach.
RELATED: National Cannabis Advocates Predict The Course Of Marijuana Reform
The party will not be able to use this tactic to pass marijuana reform and tweaking the filibuster, the one thing that stands in their way of legalizing weed on their own could lead to a "scorched earth Senate," according to McConnell. Because of this, Schumer and friends may have been a little ambitious in thinking that they were going to swoop in and put a marijuana law on the books in 2021. McConnell still hasn't given any indication that he would help rally support for federal marijuana legalization once it is introduced. Therefore, getting the votes necessary to pass such a controversial bill could prove exhausting.
Nevertheless, with COVID-relief efforts out of the way for the moment, Congress will have a chance soon to tackle marijuana reform. How far will lawmakers get? Well, if you're reading this, probably not as far as you'd hope. Not unless the Democrats have something clever up their sleeves.