If Senate Democrats can find a way to get a decriminalization bill through Congress, it would surely be signed into law.
The cannabis community has been sniffing around for the past month, trying to figure out what Senate Majority Leader Chuck Schumer means when discussing the comprehensive cannabis reform bill he wants to pass this year. All of the evidence suggests that the U.S. Senate will hear legislation aimed at legalizing the leaf nationwide.
However, the intentions of the highly anticipated bill, which Schumer says will be introduced "shortly," are becoming clearer. And the focus seems more likely to call for "decriminalization" than legalization. When Schumer was asked recently which reform model he supported, his response suggested the two terms were one and the same. "At the federal level, you call it 'decriminalization' because that lets the states legalize," he explained.
RELATED: Drug Decriminalization Vs. Legalization — Here's The Difference
But legalization and decriminalization are not the same. As we have seen happen in several states, legalization allows for a taxed and regulated cannabis market where adults 21 and older can buy weed in a way similar to beer. Decriminalization is a term usually meant to describe the elimination of criminal penalties associated with minor pot possession. It still punishes pot offenders with small fines, and it doesn't come with the infrastructure to grow and sell weed legally. 
Interestingly, Schumer said a couple of weeks ago that the Senate's cannabis reform plan would prevent Big Tobacco and Big Alcohol from taking over the cannabis market. There's already been lobbying efforts that point in that direction. But Schumer claims they won't get far under his proposal.
RELATED: Is It Bad For Big Alcohol And Big Tobacco To Help Shape Marijuana Legalization?
Still, stopping them from participating seemed unlikely if a taxed and regulated market were to unfold. It's a free country and all, and capitalism is the name of the game. So everyone with enough money to play can have at it. But corporations wouldn't have a leg to stand on if Senate Democrats push decriminalization. There would be no nationwide market. Presumably, Democrats hope to eliminate criminal penalties and put states at ease about legalization. Many jurisdictions have refused to legalize until the federal government relaxes its stance.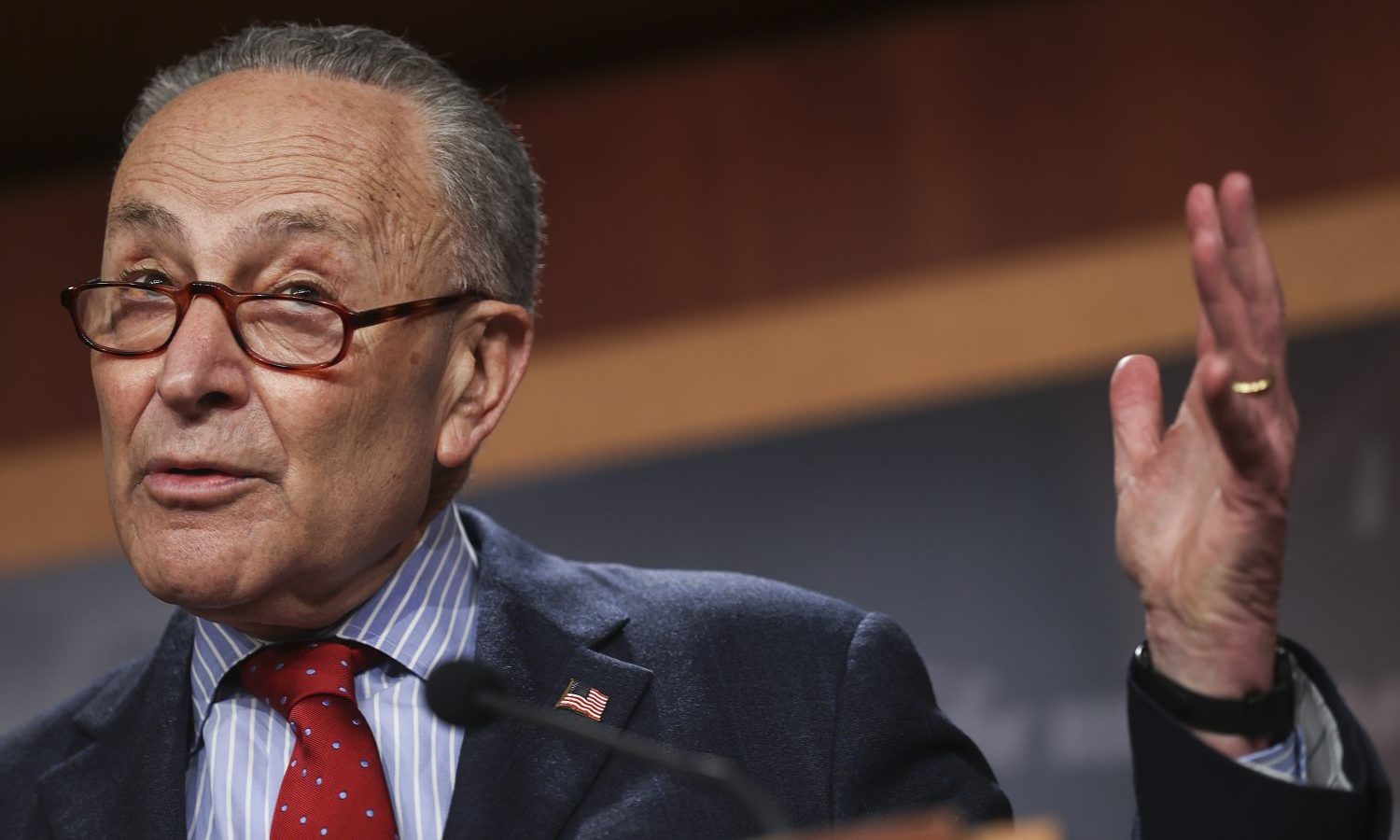 "We don't want the big tobacco companies and the big liquor companies to swoop in and take over," Senator Schumer said in a video. "The legislation we have will make sure that smaller businesses, businesses in communities of color, get the advantage because communities of color have paid the price for decades. They should at least get something back. "For decades," Schumer continued, "young men who were arrested with a small amount of marijuana in their pockets served long prison terms, and then they had a felony record and could never make themselves right."
RELATED: Will Chuck Schumer's Latest Plan To Go Over GOP Heads Help Cannabis Reform?
Perhaps the goal of the Senate Democrats' cannabis reform bill will be to provide a safe pathway for smaller cannabis businesses to operate in their respective states without concern for the corporate takeovers that would surely arise if federal legalization were to happen. At this point, we can only speculate.
All things considered, going the route of decriminalization makes the most sense. After all, President Biden supports the concept of decriminalizing marijuana. It was part of his campaign platform. So if Senate Democrats can find a way to get a decriminalization bill through Congress — something that won't be easy considering their slim majority and the filibuster — it would surely be signed into law.
Rest assured, there are plenty of roadblocks ahead for whatever model the Democrats propose. We will just have to wait for the bill to be submitted to gain more clarity into the fine details. One thing is sure, it will be interesting to see what kind of clever scheme Senate Democrats have to push this legislation all the way.