Schumer needs to make progress on critical issues to earn respect and obtain the necessary power to legalize marijuana. Point blank.
Long before Chuck Schumer was Senate Majority Leader, he believed he would eventually be the guy to eliminate marijuana prohibition nationwide. Now that he's got the job, however, the task of reforming federal cannabis law is proving more difficult by the day.
Not only must Schumer contend with eventually trying to pass controversial cannabis legislation in a Congress where Democrats only have a slim majority, but he also must watch how he handles other delicate issues or else it could sabotage the necessary votes he needs to advance his pot bill to the next level. 
In other words, Senator Schumer is in a tight spot.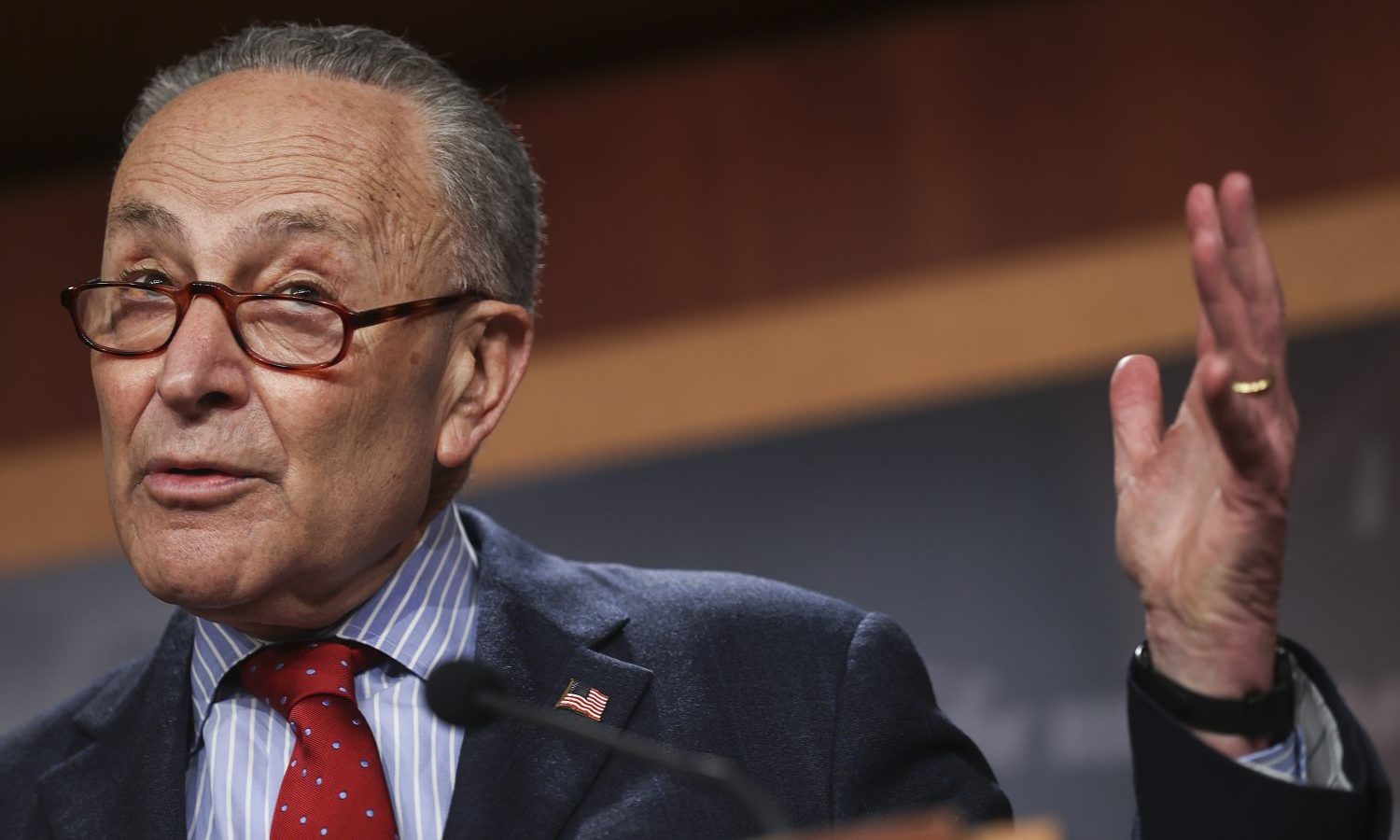 At the moment, Schumer is doing his best to walk the white line down the middle of the road. He's working on bipartisan efforts while also making promises of progressive change. It all seems to be an attempt to keep the peace and narrow the strong divide that has existed for years in Congress. Still, Schumer can only extend this political olive branch for so long while the parties try to come to terms on topics that they've historically disagreed upon. There is little doubt that this people-pleasing tactic will eventually catch up with Schumer and cause his plans to implode. 
RELATED: Chuck Schumer's Cannabis Reform Plan Is Becoming Clearer
Schumer needs to make progress on critical issues to earn respect and obtain the necessary power to legalize marijuana. Point blank. He really needs talks over Biden's infrastructure deal to go smoothly, but that doesn't seem likely. Senate Minority Leader Mitch McConnell just came out this week and said that absolutely no Republican Senators would get behind the $4 trillion deal.
Unfortunately, time is of the essence. Schumer can't negotiate with Republicans on this issue too long, as it could rile up liberal Democrats and turn them against him. Let's be clear, Senate Majority Leader Schumer cannot afford to lose any more support from his own party if he plans to legalize weed. There's already enough doubt within the party to ensure that Schumer's promised "comprehensive" marijuana legalization plan, one that is expected to come with expungements for cannabis convictions and policies designed to help small businesses, is dead on arrival.
RELATED: Everything Standing In The Way Of Federal Legalization In 2021
A handful of Democrats have come out over the past two weeks and expressed disdain for cannabis reform to some degree. They believe that legalizing the leaf, like alcohol and tobacco, would be more of a detriment to the country than a benefit. So, if Schumer's pot bill (the one that hasn't yet been introduced) was voted on today in the Senate, it simply would not go.
So far, Schumer has been good about keeping restless Democrats at bay. But he understands the need to draft policies that can survive the Senate filibuster — a rule requiring a 60-vote supermajority. He still appears to be figuring out how to do this with marijuana reform. Schumer wants to move on specific issues — he's planning to pass another budget reconciliation bill that can be done without Republican input — but he understands that this too requires some savoir faire. Anything he does from now to the introduction of his long-awaited marijuana legislation could dictate whether it will receive the necessary support to pass Congress.
RELATED: Marijuana Is Bipartisan, But That Doesn't Mean Federal Legalization Is A Sure Thing
Perhaps this is why cannabis advocates have only heard Schumer yammer on about this legislation and not yet seen any concrete action. Schumer knows deep down that a push to end federal marijuana prohibition would fail miserably at this juncture. McConnell has already proven to have the power to prevent all GOP Senators from buying in.
Furthermore, conservative lawmakers tend to get bent out of shape when progressives push issues like drug reform in the face of a nation still struggling with economic snags like the country has experienced with COVID. Schumer is no dummy, though. He understands that timing is crucial, so he will likely hold off on his pot bill for a while longer. 
On the upside, it is conceivable (although unlikely) that the current negotiations between Democrats and Republicans may include a side note for pot reform. Hey, we'll budge on this if you'll budge on that.