There are well over 1,000 strains of cannabis out there to choose from, and there are obvious standouts, favorites and competition winners. There are also new combos that will light up 2019 with heady highs, body highs and all around highs. These 5 contenders are sure to enhance the New Year and get things off to a proper start.
Kosher Kush
RELATED: Here Are 10 Types Of Marijuana You Can Take To Be Less Stressed
This indica works wonders for medical users, as it comes on fast and heavy and packs a serious medicinal punch. Averaging around 29 percent THC, from pain relief to appetite stimulation to the slowing down of racing thoughts, Kosher Kush is a literal winner, having taken home three Cups already in the indica category. Do you have a busy year ahead? This is the one to soothe those nerves at the end of a long day.
Dark Star
This purple indica named for the famous Grateful Dead song is a little lower in THC, but is still an indica to write home about. Dark Star is a pure hybrid of Purple Kush and Mazar-I-Sharrif and is extremely aromatic. With a blackberry finish, these dense nugs are sure to delight and almost act as a dessert. They'll have you going back for dessert at least, as this is most certainly a munchie strain.
Jack Herer
This classic hybrid was touted by renowned activist Jack Herer himself. A great daytime strain for its sativa dominance, this cultivar will never go out of style, much like the memory of the man who believed that hemp and cannabis are the keys to healing our world, from environmental issues to pampering our bodies. If you haven't read Jack's tome on cannabis and hemp, The Emperor Wears No Clothes, it's available for free at jackherer.com. (To learn is another great way to kick off a new year…)
Mimosa
https://giphy.com/gifs/cartoon-superman-looping-3nH8NhQPzqHwk
RELATED: What To Do If You Accidentally Get Too High At Christmas
Better than the endless mimosas served at brunch, this fantastic hybrid mixes the sativa Clementine with the indica Purple Punch. Bred by Symbiotic Genetics, the fruity, citrusy under and overtones make this a delicious choice for day or evening use. It's not a heavy or overly heady high, but is effective and uplifting to a tee.
Ghost Train Haze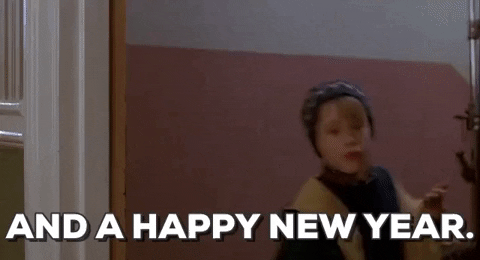 This sativa heavy strain by Rare Dankness clocks in at around 25 percent THC. It's won multiple awards from different venues and is lauded for its strength. With notes of citrus and pine, you know the terpenes are working overtime to enhance your experience. If you're not a heavy imbiber, go slow with this one. It's so strong that it's on the edge of psychedelic when smoking a bowl to one's head, taking that third big dab or having an infusion binge…