When you're starving, it can feel like such a chore to cook for yourself, but waiting for the delivery or driving to the shop can take just as long as just begrudgingly whipping up a pantry cleaner. Trips to the Asian market leave me with bits and bobs of bulk purchases like noodles, sauces, and spices. Even when the only green in sight is a wilted scallion, this dish shines.
Japan, Korea, and Chinatowns in any city are going to have versions of cold noodles with iterations of the same theme: complex and refreshing. The only heat in sight is the spice, which like many a tropical culture has proven to be an internal temperature regulator. Dosed sesame oil is worth keeping around for these meals, whether hot and soupy or chilled and full of chilis, you can add that medicating hit to many dishes.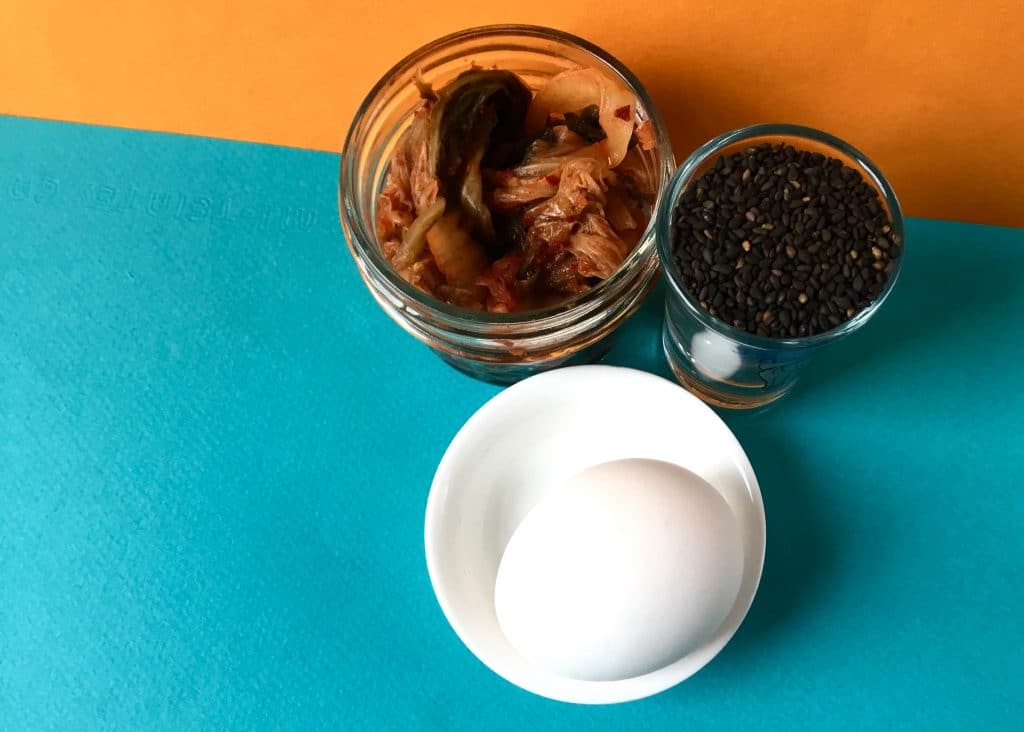 Cannabis Kimchi Cold Noodles
Danielle Guercio 2017
Makes 2 servings; 7mg THC per serving
2 bricks instant wheat ramen noodles
4 c boiling water
½ c kimchi, roughly chopped
1 Tbs rice wine vinegar
1 tsp cannabis infused sesame oil*
For the Garnish
Scallions
2 sunny side up eggs
Sesame seeds
Fried onions
Shredded chilis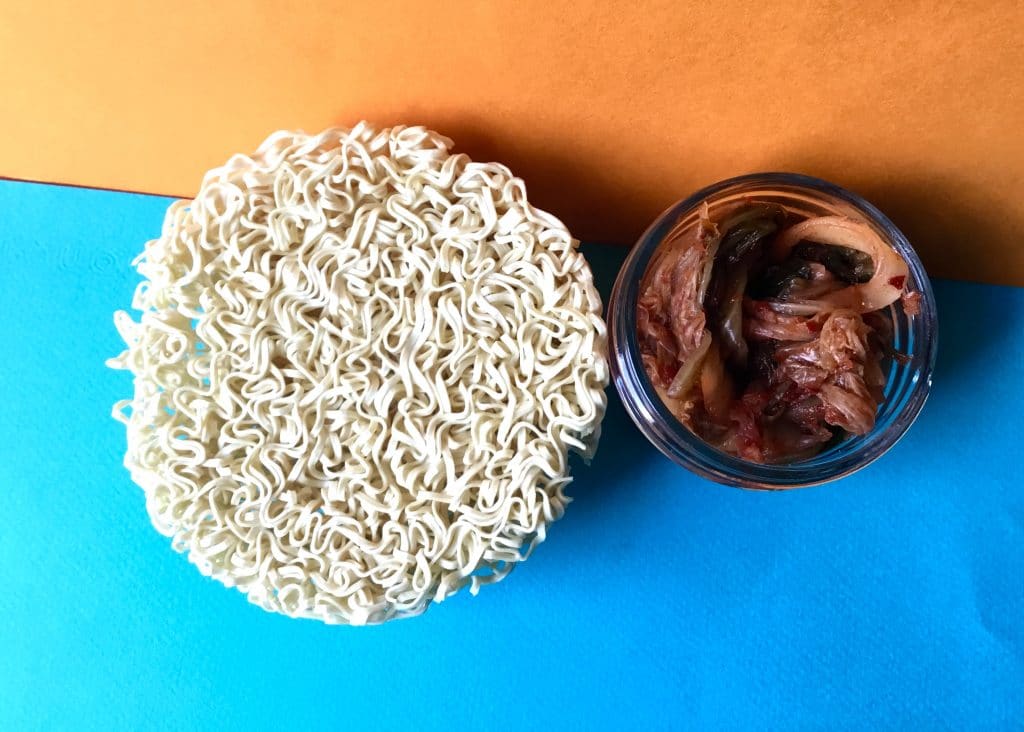 Put one noodle block into a bowl. Pour over boiling water and allow to sit for 4 minutes. You can cook these without a pan or a pot if you have a hot water kettle, if not just make in a regular pot on the stovetop.
Strain in a colander and rinse with cold water. Allow the noodles to drain for a minute while you whip up the sauce.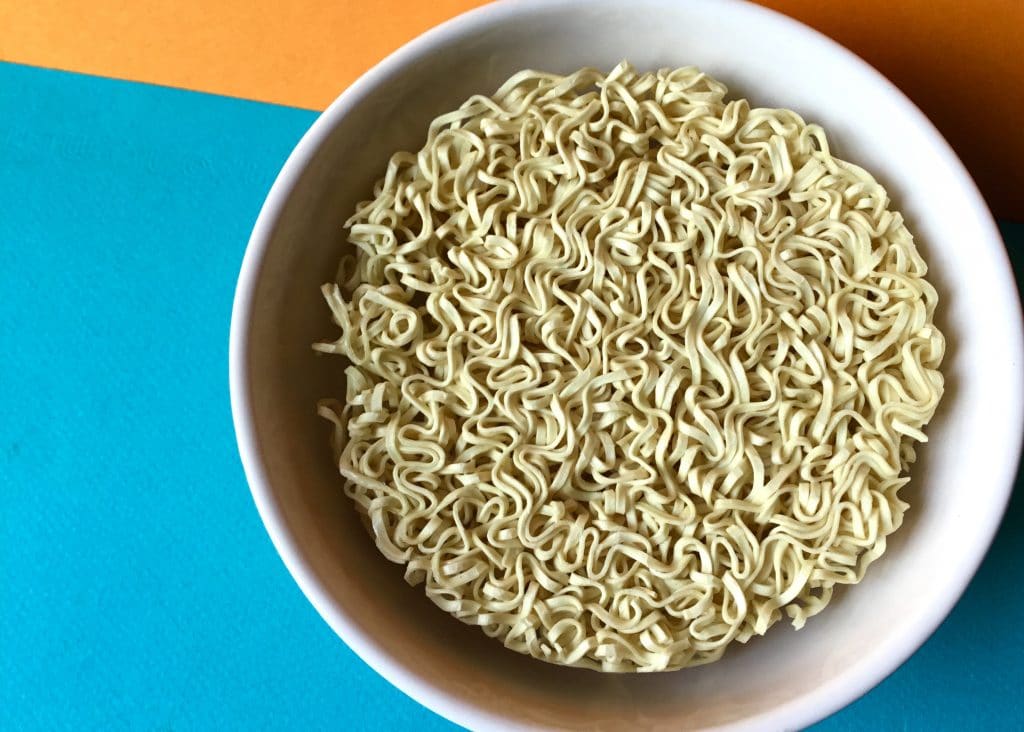 Stir together the oil, kimchi, and vinegar in one of the bowls. Split between the second bowl, top each with noodles and toss. Add garnishes and dig in!
*Cannabis Infused Sesame Oil
Decarboxylate 7g of finely ground cannabis at 225 degrees for 20 minutes in a tightly sealed, oven safe container. Put in lidded mason jar or vacuum sealed bag with cannabis and four ounces of coconut oil. Heat in water bath just under boiling for at least 1 hour. Strain and add 1 oz infused oil to 2oz sesame oil. Stores in fridge for 4 weeks.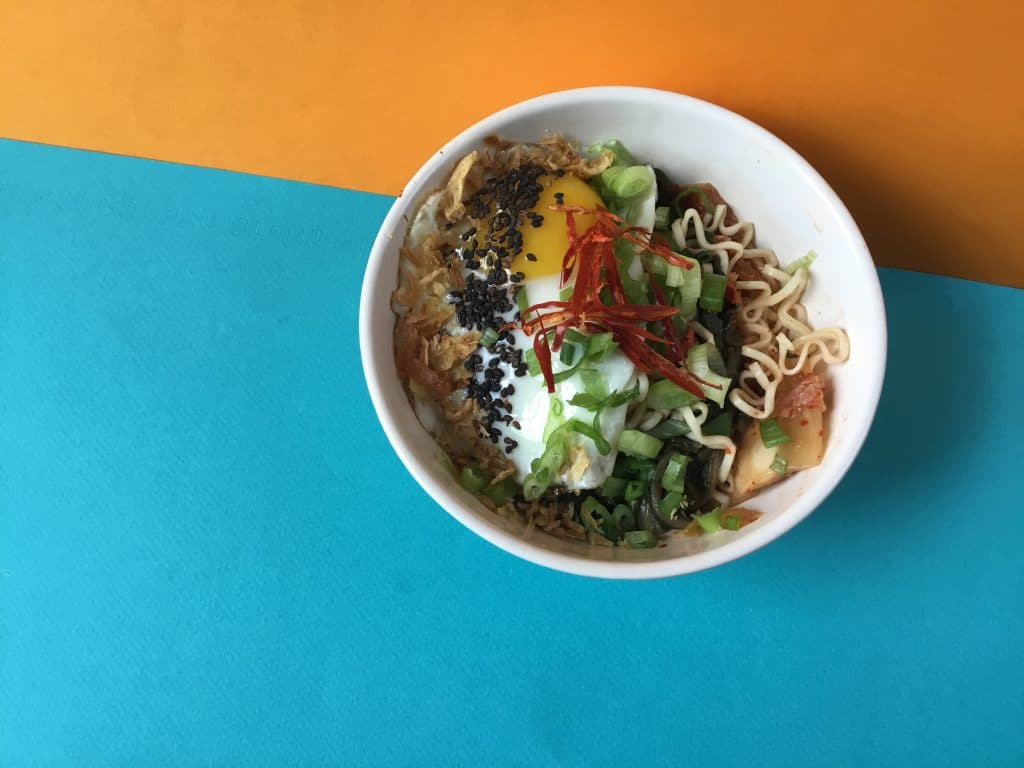 If you remember to stop at one of these types of spots on the way home, great! Drizzle on your infused sesame oil if that's the case.
If you are forgetful and rushing home to your weed, like I usually am, these ingredients keep in the fridge and pantry forever. This is why dosing dinner is an earned reward after a long and depleting day. Whether you have to work through the night or post up on the couchie for a Hulu sesh, you'll be fed and won't break up a sweat.
Photos: Danielle Guercio