When it comes to fast foods, vegetarians are often forced to choose between fries and onion rings as their entree. Even people who want to eat less meat are often out of luck during road trips or travels; usually fresh food isn't an option. It's no secret that bean and rice-based veggie burgers are no object of lust to most omnivores, but technology and some very intensive taste testing have led to the creation of some very delicious meat analogues.
The Impossible Burger started as an outlier but just made a huge expansion with the announcement of White Castle Impossible Sliders' nationwide availability. Using legendary cannabis pop culture figures like Ghostface Killah and Kal Penn to much fanfare. It's hard not to drool until you can buy it in stores, but it's available at more than 3,000 restaurants.
We got our hands on a few patties to play with, perfect for that iconic double decker burger that vegetarians might be missing, with cannabis in the special sauce, another fast food pipe dream that should be reality.  
Lil Mac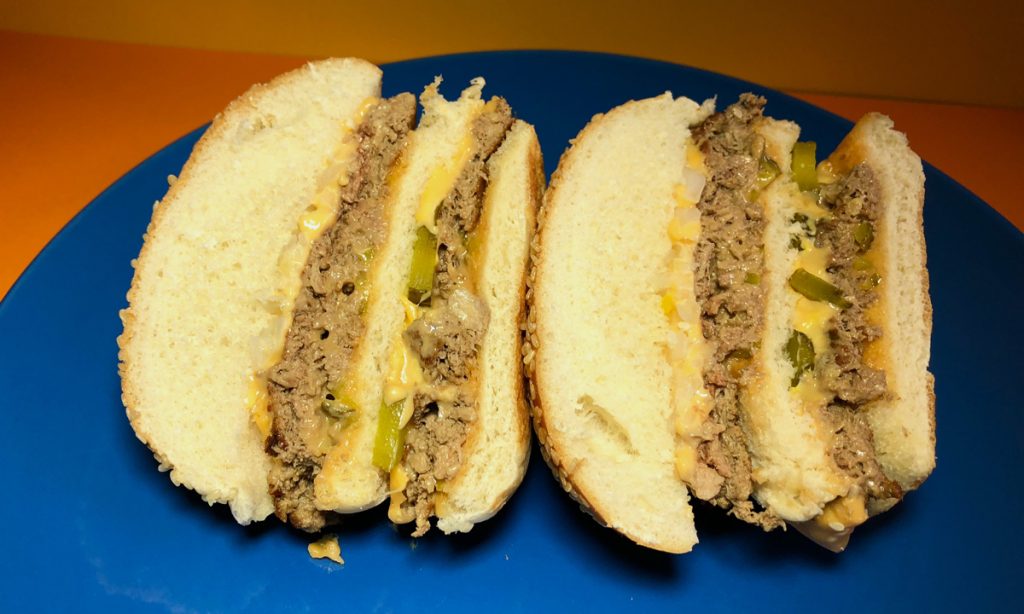 Danielle Guercio, 2018
(Estimated 10mg THC per Tablespoon of Special Sauce)
1 Impossible Burger patty
1.5 Sesame seed hamburger buns
Shredded Lettuce (optional)
Vegan American Cheese (we used Daiya)
Sliced dill pickles
Diced white onions
Cannabis Infused Vegan Special Sauce
(makes about ½ cup, enough for 3 servings)
¼ tsp sweet paprika
¼ tsp onion powder
¼ tsp garlic powder
2 Tbsp sweet pickle relish
¼ tsp pickle juice
1 tsp yellow mustard
½ tsp tomato paste
⅓ cup Veganaise
1 tsp cannabis glycerin tincture*
Prep the Impossible Burger into a double patty by cutting horizontally with a sharp serrated knife as soon as you take it out of the fridge. Stash back in the fridge to re-chill while you make your infused sauce. Impossible Burgers have chunks of coconut oil embedded in the 'meat' blend, which means they to keep their shape they have to go right from the fridge into the pan.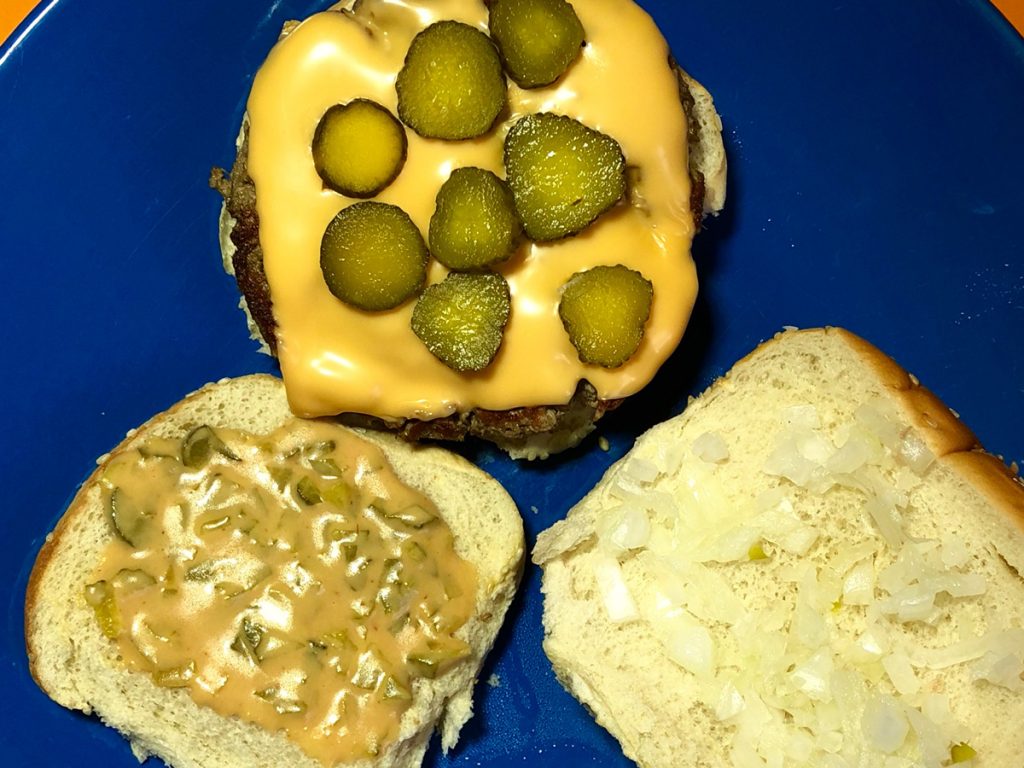 It's not a big secret, "Special sauce" is really a mixture of mayo, mustard, relish, and spices. In the fast food joints, it comes out of a big metal gun like a caulking tube, and that's not as attractive as making your own version. I also like a little dose of quick DIY ketchup which you can whip up by adding a slightly sweet glycerin tincture to tomato paste and pickle juice. Mix everything together and use right away.
Once you have your sauce and accoutrements at the ready, heat a non-stick pan on medium heat to prepare the patties. No oil is needed, as you want a little char on the outside, plus they already have a good bit of oil inside. Don't move the patties around the pan! You want to quickly sear the outside. Lightly toast all of your buns, without browning, to keep the sesame seeds at optimal toastiness.
Be sure not to overcook the patties as this faux meat cooks much faster than the real thing. Flip once, and immediately drop a slice of vegan cheese atop each patty. Cook for two more minutes and then turn off the heat and cover the pan briefly to let the cheese continue to melt.
Assemble your triple decker burg in the following order: bun bottom, roughly half a tablespoon of special sauce, lettuce (optional), cheese side up patty, pickles, bun middle, another half tablespoon of special sauce, optional lettuce, cheese side up patty, diced onion, bun top.
*Cannabis Glycerin Tincture
Decarboxylate 3.5 grams of finely ground cannabis at 225 degrees for 20 minutes in a tightly sealed, oven safe container. Put cannabis in lidded mason jar or vacuum sealed bag with cannabis and ½ cup vegetable glycerin. Heat in water bath just under boiling for at least one hour. Strain and chill to use in recipes.
Try not to devour it before you can snap a photo of your glorious creation. This also makes a great build-your-own meal for a small gathering, the patties can fly off the pan in less than five minutes so it's easy to prepare a whole (adult) family's worth at once.