Daily Delight:
23 Easy Ways To Make Your Breakfast More Instagramable
It doesn't take much. Here are some easy tricks.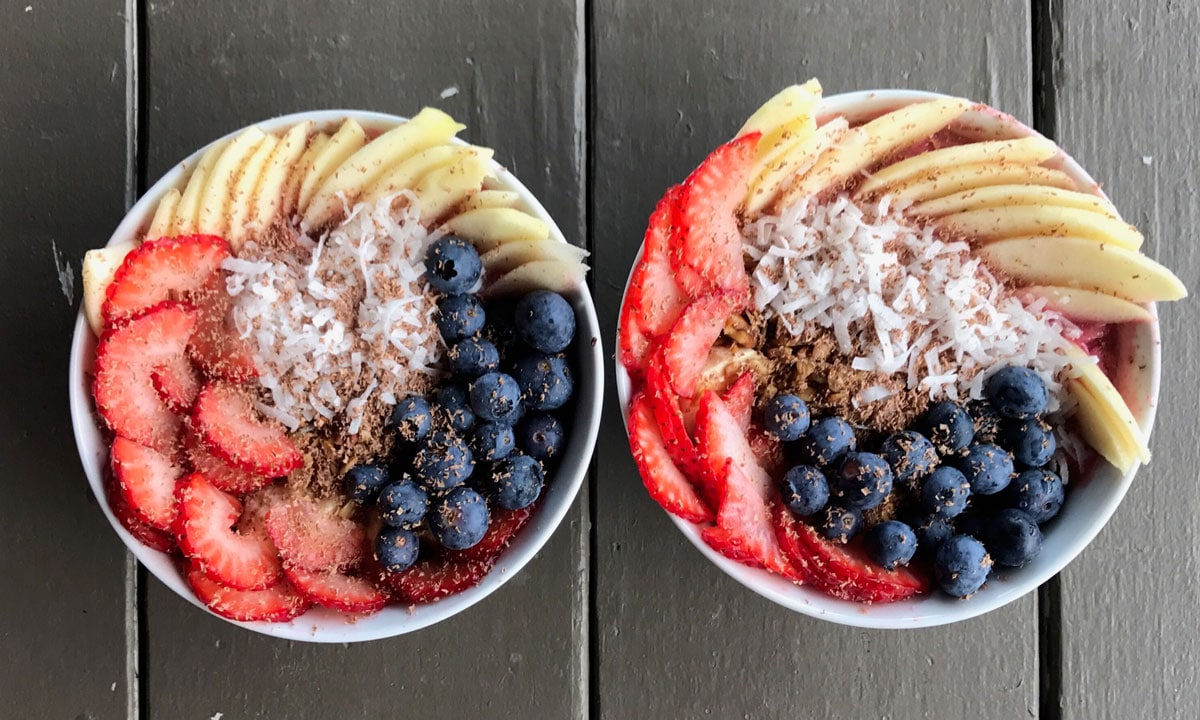 Breakfast used to be as simple as pouring some milk over some mono-colored cereal or slicing a banana atop of your Wheaties and calling it a day. Now, instead of grabbing a quick bite and heading out the door, you have to think about its level of attractiveness. Everyone is watching, or at least it seems. Instagram will have you thinking that while you're sucking down your expired Yoplait, someone else is out there staging a damn photo shoot in their loft apartment with floor-to-ceiling windows, flooding light into their bowls and onto their toast, creating an etherial morning meal. Here are some healthy ingredients you can toss into your bowl (or on your plate) to beautify your food.

1. Groats
Groats are the hulled part of a cereal grain that retains the healthy germ and bran. The chewy texture is perfect for hot cereals or pancakes.
2. Fresh Figs
3. Chia Seeds
4. Nut Butter
5. Acai
This superfood will turn any smoothie or smoothie bowl a vibrant purple. Frozen packets of the stuff can be found in most grocery stores, including Trader Joe's.
6. Coconut Flakes
7. Pumpkin Seeds
8. Chopped Nuts
9. Raspberries
Cook them with your oatmeal to turn it pink.
10. Berries Of Any Kind

Fresh fruit tastes great on hot cereals, but even better on cold breakfasts, like banana nice cream (blended frozen bananas), smoothie bowls or yogurt. Frozen berries, especially blueberries, are great for hot cereals. Plus, they're an excellent way to cool them down.
11. Sliced Bananas
13. Passion Fruit
Scooping out the innards of this tropical fruit gives any breakfast a pop of yellow, plus it tastes amazing, especially in smoothie bowls or atop nice cream (blended frozen bananas).
13. Dragon Fruit
It tastes like a kiwi-pear hybrid, and the black-dotted white pulp is crazy photogenic.
14. Dark Chocolate Shavings
15. Cacao Nibs
16. Granola
17. Pomegranate Seeds
Whether sprinkled on top of oatmeal, cold cereal, a smoothie bowl, pancakes or peanut butter toast, these seeds are the perfect addition to your morning meal.
18. Rawnola
In a food processor, blend together some pitted medjool dates, oatmeal and coconut flakes. Eat by itself or sprinkled on your cereal.
19. Date Syrup
20. Mulberries
21. Goji Berries
22. Edible Flowers
23. Peas
A vibrant green smoothie bowl made with frozen peas (or fresh spinach leaves) is the perfect backdrop for fruit.
---
---
---