October rules. Depending on where you live, there's the spectacular changing of the leaves and no matter where you live fall flavors and activities abound. Warm weather lingers, sipping hot apple cider on cooler evenings, and apple pie ice cream at your local parlor  all evoke October, but the best, best part of the month is its final, spooky days.
Here's some ideas on what to do in celebration.
Visit a haunted house or asylum
It seems that every town, no matter how big or how small, there's an old, broken down insane asylum, haunted house, scary old graveyard or deep dark forest to explore. The dusk of an October day is the perfect time to catch the long shadows cast, the roaming black cats and perhaps hear the howling of what might be the wind. These types of freaky things are best done while blazed out of your mind, which seems to help in the suspension of disbelief.
Support your local pumpkin patch
Though it's not the scariest activity on the list, it does provide you with pumpkins to make wicked jack-o-lanterns and is a definitive October activity. Look for family-run farms with activities like corn mazes where you really can't see where the next turn may be, pumpkin cannons that blast hard, round squash into the air and, of course, hayrides.
Binge watch your favorite horror shows
From American Horror Story to the classic Halloween movies, Harry Potter to the more deviant Exorcist, strap yourself to the couch with a party bowl and a couple of horror-loving friends to really get into the seasonal spirit. Dare yourselves to say Beetlejuice three times and binge away.
Make a pumpkin bong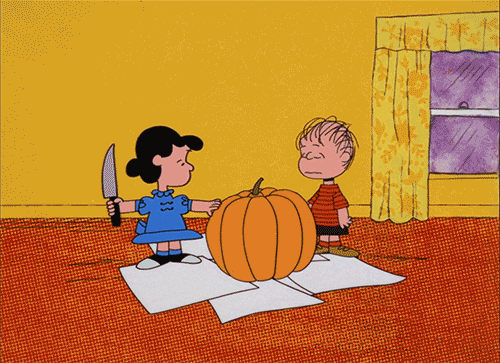 Celebrate the holidaze with your very own pumpkin bong. Simply cut out the "lid" as usual and then gut the pumpkin. Next, drill a straw-sized hole in the topper and insert a straw for drawing the hit. In the front of the pumpkin, where you would normally carve out the bottom of the nose, drill another hole and insert a bong slide. Voila! You're ready for pumpkin-flavored bong rips right in time for any of the activities mentioned here or that are otherwise enjoyed.
Overfeed spooky-dressed children on candy
While making infused caramel apples for you and your crew is an excellent October idea, keep them far away from the kids, especially on Halloween evening. Dress up in your scariest zombie, witch, Frankenstein or other ghostly costume and dole out the goodies to visiting kids. Fright at their outfits and be the cool house with full-size candy bars…
Attend a high minded costume party and go all out
Go all out gore fest at your friend's Halloween parties and try to get a scare out of at least a few cronies. Fake blood isn't scary if it's done sloppily or if it's overdone, so take your time with the freaky makeup. Just make sure your eyes are blood red by the time the party's really getting going. Cannabis is the perfect social lubricant, no matter who you are on the outside.
Arrange a spooky scavenger hunt 
Before either treating kiddos to candy bars for days or going to a Halloween party, gather some high-minded friends, have a good celebratory sesh and then set out on a Halloween scavenger hunt. A photo hunt is the perfect type in this age of cell phone cameras. Look for black cats, a group of jack-o-lanterns, a ghost in a yard, etc. Be creative and steal some of the above ideas for a fun few hours of festivities.
Consult your Ouija board on marijuana issues come November
If you really want to creep yourself out, take your Ouija board out of the closet, dust it off and start asking your questions. Summoning spirits is not a recommended activity on normal terms, but if said spirits have insights into how cannabis is going to do in the midterms, let the board talk, geez!