Leftover Halloween candy: as unlikely as this phenomenon may sound, it has been known to occur.
Maybe you overestimated how many trick or treaters would come a-calling. Or maybe you just couldn't resist the rock-bottom sales and bought your weight in clearance Halloween candy. Regardless of the reason for your sweet excess, there are plenty of creative and delicious ways to use up that sugary bounty. Here are just a few of our favorites.
1. Make creamed candy corn
Creamed corn is a traditional American side dish. Creamed candy corn is a sugar-filled adaptation of that dish, designed for an unholy yet wholly delicious dessert experience. All it requires is some milk, instant pudding mix, and a heaping dose of leftover candy corn. It's fantastic. Recipe here.
2. Make a candy bar that's actually fun-sized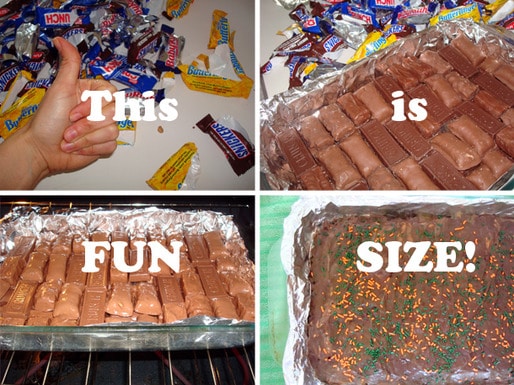 Do you think that "fun-size" candy bars are way too tiny for a good time? Here's a solution: melt a melange of mini candy bars in a pan for a monstrosity that truly tastes like fun. Line up fun-sized candy bars a few levels high in a foil-lined pan, then bake in a moderate oven until they melt together. It will cool into a massively enjoyable chocolate treat. Bonus: when it's all melted together, you can't see the wrapper evidence of how many you ate.
3. Deep-fry it
Make your own state fair-esque experience right at home: simply coat your favorite Halloween candy in batter and fry it in hot oil. A warm, doughnut-like shell giving way to a warm, ooey gooey peanut butter cup or fun-size candy bar is a singular pleasure that you won't soon forget. Recipe here.
4. Make infused vodka
Transform your leftover candy into a pleasurable potable by making your own infused vodka. It's as easy as submerging your favorite Halloween candy in vodka, letting it sit for a few days, then straining out the candy. Enjoy the vaguely trick or treat-y aftertaste.
5. When all else fails: leftover Halloween candy pie
When all else fails, here's a fail-safe (and oddly beautiful) solution: make leftover Halloween candy pie. Put all of your leftover Halloween candy in a par-baked pie crust. Bake at 350 degrees until the fillings are totally melted and the crust is browned to your liking. Let cool, slice, and enjoy.
What's your favorite use for leftover Halloween candy? Tell us in the comments!