Daily Delight:
20 Insane Ice Cream Flavors From Around The World
This is what happens when Willy Wonka goes AWOL.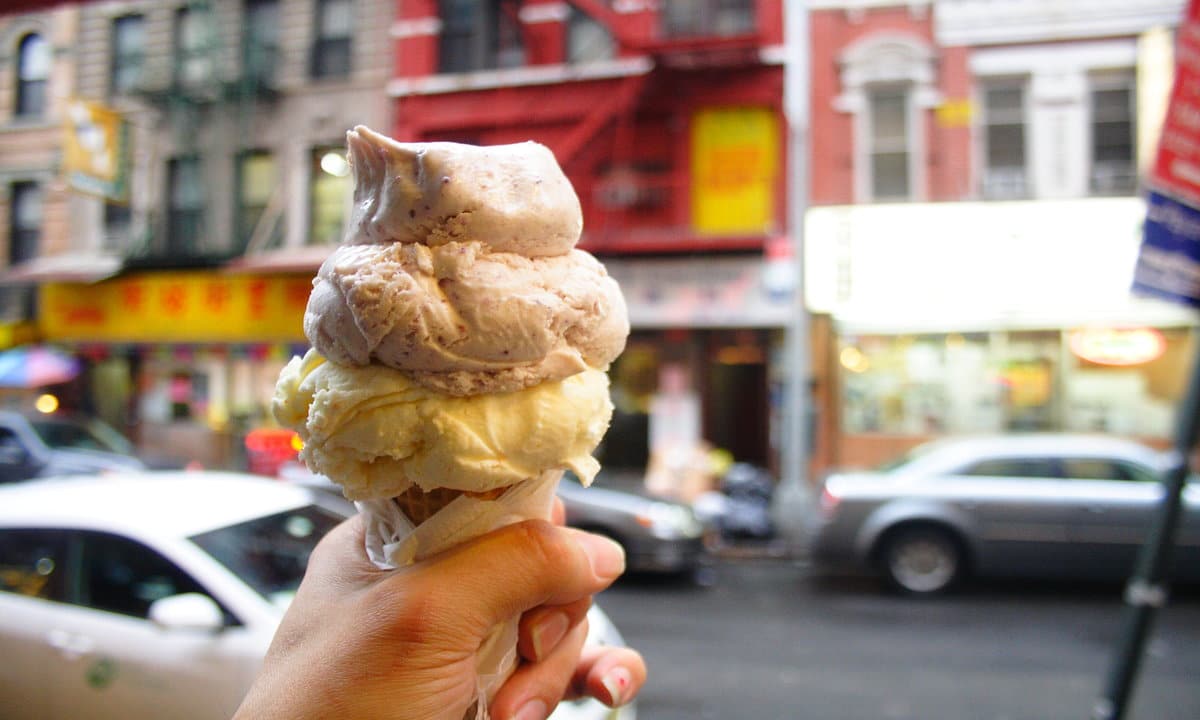 As the weather starts to get warmer and the days longer, seeing photos of stacked ice cream cones on our social media feeds usually leads to thoughts of sweet treats and strolls through the park. As you imagine yourself walking down the street licking a cone, what flavor comes to mind? Maybe chocolate peanut butter, or if you want to get really crazy, perhaps some salted caramel? Time to up your daydreaming game, because ice cream flavors are getting weirder all the time. Here's 20 pieces of proof.
Toasted Leftover Baguette PB&J
Salt & Straw, Portland, OR
This Portland based creamery, now with shops in Los Angeles, is using leftovers in their ice cream to create a waste-free product. Enter their baguette peanut butter and jelly flavor, made with salvaged unused bread from high-end grocery stores and restaurants, courtesy of Urban Gleaners.
Here, they've toasted the surplus baguettes, steeped them in sweet cream, and added swirls of jam to the mix. The fruit and berry jam also comes from Urban Gleaners and it's paired with chocolate peanut butter.
Foraged Wild Garlic
Murphy's, Dingle, Ireland
Fried Chicken & Waffles
Coolhaus, Los Angeles, CA
Brown butter maple ice cream with maple candied chicken skins and caramelized waffles make this a popular choice…for brunch.
Fast Food
Coolhaus, Los Angeles, CA
Salted Tahitian vanilla bean ice cream, chocolate malt balls, and french fry crisps for when you're craving fries dipped in a shake.
Smoked Pineapple and Green Chartreuse
Humphry Slocombe, San Francisco, CA
Hummus
Papa Cream, Mumbai, India
Bacon & Onion
Cool N2, Ontario, Canada 
Sea Salt Popcorn
Tuck Shop Take Away, Melbourne, Australia
Lemon Meringue with Injectable Curd
Nitrogenie, Noosa, Australia
Chips & Dip
Coolhaus, Los Angeles, CA
Having dinner for dessert make sense here. Creamy cream cheese and mascarpone base with salty , chocolate-covered potato chips!
Black Jelly Bean
Tuck Shop Take Away, Melbourne, Australia
Strawberry Horseradish
Max & Mina's, Flushing, NY
Max and Mina's is famous for their "every flavor under the sun" menu that has been known to include pesto, turkey dinner, and lox.
Hawaiian Pizza
Hanjip Korean BBQ, Culver City, CA
Eccentric ice creamery Coolhaus teamed up with Hanjip Korean BBQ to create a trio of ice cream sandwiches that includes: Korean Chili Fries, Hawaiian Pizza and Korean Cookies & Cream.
The Hawaiian Pizza features pineapple ice cream flecked with pieces of Spam and sandwiched between white chocolate macadamia nut cookies. The Korean Chili Fries consists of red bean ice cream with shoestring fries and a concoctions of snack-foods (butterscotch, pretzels and potato chips).
Fish Fry
Ted & Wally's, Omaha, NE
Cap'n Crunch and Swedish Fish candy swimming in blue cake mix ice cream.
Breast Milk
The Icecreamists, London, England
Parmesen, Fig & Honey
Pidapipó Gelateria, Melbourne, Australia
Ice Cold Beer
Max & Mina's, Flushing, NY
Crème de la Corn
Dominique Ansel Kitchen, Tokyo, Japan
The ice cream comes atop an entire ear of hot, grilled corn (including the husk) which has been braised in a mixture of soy sauce and butter.
Bacalao (salt cod)
Heladeria Lares, Puerto Rico
Also on offer: rice and beans, corn, and rice and sausage ice cream flavors.
Wasabi Peanut
Café Waldi's, Bavaria, Germany
---