It's no secret that food is a turn-on, but dating app Zoosk took it a step further by proving that fact with actual math.
They found that talking about food in your profile, specifically guacamole, makes you more attractive. Referencing avocado's party girl persona on your profile is likely to get you way more messages (and presumably dates) than those who don't.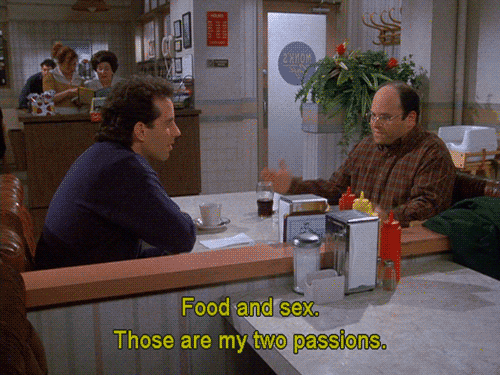 The dating site crunched some 3.7 million dating profiles and more than 365 million first messages looking for every single time food was mentioned. What they found was kind of surprising. More messages were exchanged any time food was mentioned, especially guacamole, potatoes and chocolate. In fact, users who mentioned those foods in their profile saw a 100 percent increase than those who did not. But, according to Zoosk:
There are a few exceptions however. Interestingly enough, despite the fact that it is both delicious and wonderful, mentioning fried chicken in a dating profile results in 15% fewer messages and yams are vastly unpopular resulting in 70 percent fewer messages.
Under the larger term of "foodie," those who used this word to describe themselves received 82 percent more messages.
Though mentioning food in your profile can lead to more incoming messages, it probably shouldn't be the first thing you talk about with someone. For the most part, mentioning food in an initial message doesn't result in many more replies. But there are some exceptions, the most surprising of which is eggplant, which gets 10 percent more responses than the average.
Huh?
And if you're a vegetarian or vegan, things are looking up! The study found that since 2015, when mentioning the word "vegetarian" was the equivalent of saying you're a disciple of the Duggar family, it's now a bonus:
Back in 2015, messages that mentioned being a vegetarian were a big no-no and resulted in 100 percent fewer replies than the average. But now that's it's 2017, saying you're a vegetarian is a plus. Messages that mention being a vegetarian get 3 percent more replies than the average. Though it's not a huge lift in replies, it is a huge difference in just two years. In addition, if you say you're a vegetarian in your profile you can get up to 52 percent more incoming messages. Being a vegan is a plus as well. People who mention vegan in their profile get 62 percent more incoming messages than the average.
Also, fellas, don't take your lady to a fast-food joint on the first date. Nearly 60 percent of women say this is a huge turn-off and 10 percent say it's a total deal breaker. If you want guacamole, head to a nice restaurant, not Taco Bell.
Photo by: Kjokkenutstyr.net