It's challenging for celebrities to avoid the spotlight. With eyes, both real or virtual, there is little hiding. In fact, no photo is safe from the Greek Chorus known as social media, who often burn people at the stake for any misstep, regardless of how trivial. Even the simple act of cooking can be blown out of proportion if someone famous doesn't do it according to popular opinion. Here are eight celebrities who didn't realize their personal decisions in the kitchen would result in hurt feelings from total strangers.
1. Pink
https://www.instagram.com/p/BWonpJ8lzgn/
You can probably guess by the photo what Pink did to draw ire from social media this week. Hint: comments included, "Pink is pulling her head back to protect herself yet babys head is in line of danger of being splattered and burnt. Sorry but this is not Ok," and "I am a Mother of 4 grown children ..I never ever aloud my kids around the stove when cooking ..That my Dear is a Big NO NO…" Most people seemed to be in the rocker's corner, reminding the haters that Pink is known for rappelling down stadium ceilings and generally being a badass on tour, so she can probably handle a stove.
2. Nigella Lawson
https://www.facebook.com/NigellaLawson/photos/a.415779312479.191011.9297377479/10155401156762480/?type=3
English Rose Nigella Lawson is famous for her sultry, sex goddess approach to food. But it took a Facebook photo of her carbonara for people to be offended. One commenter replied: "Nigella you are a wonderful woman but your recipes are the DEATH of Italian recipes, literally! NO CREAM IN CARBONARA NEVER, only eggs."
3. Jamie Oliver
https://twitter.com/jamieoliver/status/783251738509836288
Chef Jamie Oliver received a windfall of hate after he included chorizo in his paella. Chorizo, as social media was quick to point out to him, is not included in authentic paella.
Jamie, we don't call that Paella, we call it "rice with things"#JamieOliver

— Leche Mal™ (@milkwasabad) October 4, 2016
4. Gwyneth Paltrow
This is what $29 gets you at the grocery store—what families on SNAP (i.e. food stamps) have to live on for a week. pic.twitter.com/OZMPA3nxij

— Gwyneth Paltrow (@GwynethPaltrow) April 9, 2015
She meant well with her attempt to live off of $29 worth of groceries for a week, but Goop's HBIC only lasted 4 days before succumbing to fresh veggies, half a bag of licorice, and some chicken. The Twitterverse was quick to call her out for her paltry attempt. Even Mario Batali got roped into the drama.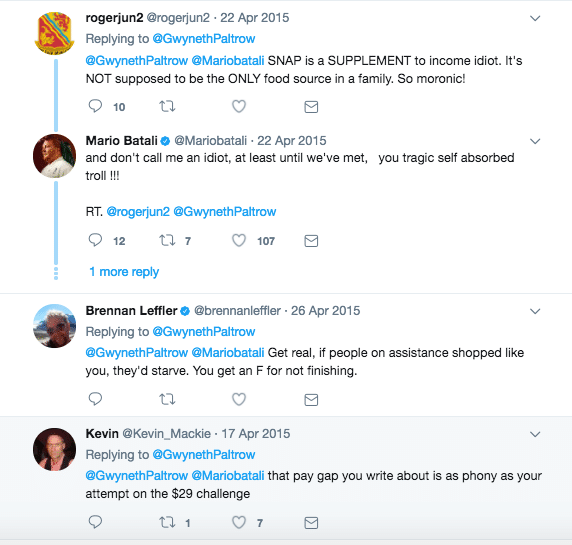 5. Mary Berry
The former "Great British Bake-Off" judge sent the UK up in arms when she dared add white wine and double cream to her spaghetti bolognese. But it's what she didn't add that really set people off. She omitted spaghetti entirely, preferring to use pappardelle. Shortly before committing this food crime, she baked a "pie" that was basically just stew with a crust top. WHAT WOULD THE QUEEN SAY!?
#maryberry making a stew with a lid on. I feel utterly betrayed. #thatsnotapie #maryberryeveryday pic.twitter.com/nci0XhhbmD

— Rach (@raerhi) March 20, 2017
6. Jana Kramer
https://www.instagram.com/p/BGIgAsErMs4/
The "One Tree Hill" actress was shamed for what she didn't cook: her own baby food. Kramer clapped back at her mommy-shamers with another photo:
https://www.instagram.com/p/BGKDRQmLMsr/
7. Kelly Clarkson
https://www.instagram.com/p/BSoajTKlWk2/
The singer was also mommy-shamed for giving her daughter – gasp! – Nutella! Commenters shook a collective cyber finger at Clarkson for giving her kid "poison" and saying that it caused cancer and was full of sugar and … on and on and on. A month later, Clarkson posted this photo, a virtual waving of the white flag?
https://www.instagram.com/p/BUUnJnslLCx
8. Kim Kardashian
Kim Kardashian knows good and damn well she didn't make all that Jamaican food pic.twitter.com/XOJu202D0W

— Sara 💋 (@saraa_03) July 2, 2017
Because Kim K doesn't garner enough hate, the social media mob came after her (again) when she claimed to have cooked a huge Jamaican Sunday supper that her nanny taught her how to make. People were quick to point out that something seemed "off" — and that "something" was Kim breaking a sweat in the kitchen.
So Kim Kardashian apparently "cooked" Jamaican food pic.twitter.com/R27yI19pnb

— Danita its Christmas!!! (@KhiannasTweets) July 3, 2017