Not everyone is likely doing the big traditional family and turkey this year. Some just prefer not to celebrate Thanksgiving, while others opt for Friendsgiving or orphan gatherings. And considering the fairy tale reimagining of the day, who can blame them?
Those of us in smaller crews won't want to be working with a massive turkey; there's only so many leftovers you can take, and cooking that big bird is a whole lot of effort. Plus, without the big family that comes with what amounts to mixed company, you can freely infuse your food and not worry about children or unsupervised baby boomers copping an unwanted high.
This year, try chicken and a few fixins with the good stuff for a new take on mini Thanksgiving, or just a regular romantic Sunday.
For that perfect reasonable roast, go for a high quality organic chicken, and stay under four pounds to limit the excess. There are countless delicious methods for roasting  that it's hard to pick one for you, but here's three internet favorites:
Samin Nosrat's Buttermilk Chicken
The Standard Grill's Million Dollar Chicken
Glamour Magazine's Engagement Chicken
We went with the Million Dollar Chicken over here, and though I'd swap root veg for the sourdough at the bottom, it was a wonderful treat. For the infused side of your dream mini feast, here's a recipe that will have you going in for seconds before the munchies set in.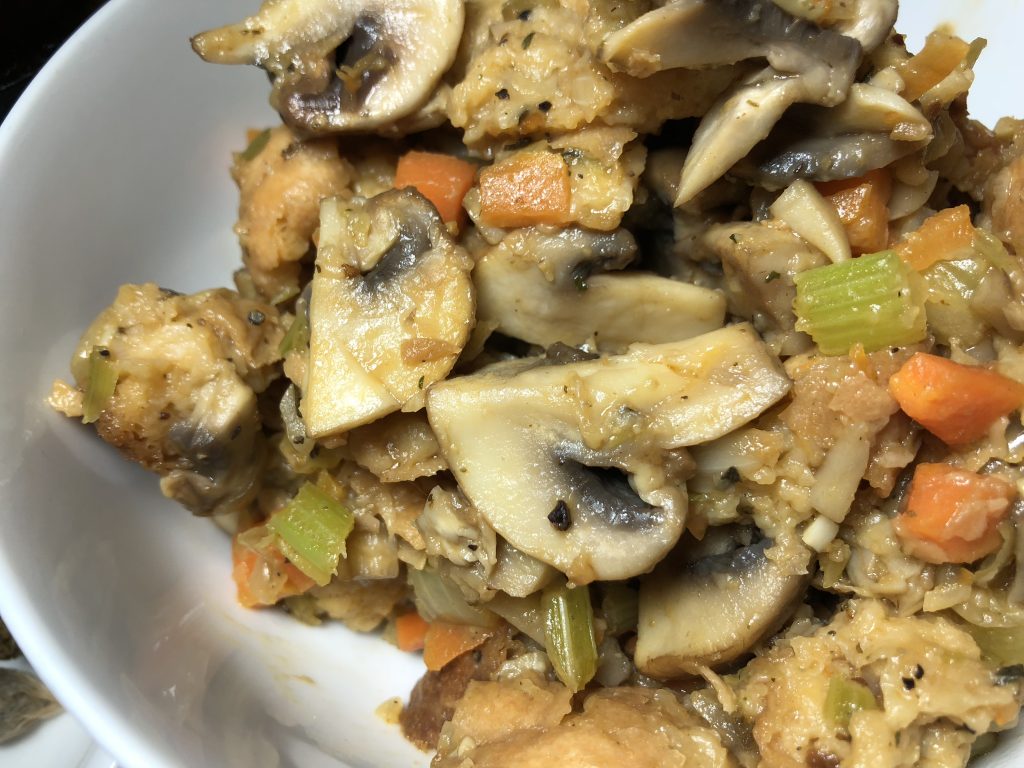 Herbed Mushroom Stuffing
Danielle Guercio 2018
Serves 4, Estimated 10mg THC per serving
1 lb button or baby portobello mushrooms
4 Tbsp unsalted butter
2 Tbsp cannabis infused butter*, melted
Small bunch thyme
4 sage leaves
5-6 rosemary needles
Pinch tarragon
Pinch oregano
2 celery ribs
1 large or two medium carrots
½ a white onion
3-4 garlic cloves
¾ loaf of day old baguette, sourdough, or ciabatta bread
1 cup vegetable or chicken broth
1 cube vegetable bouillon
Salt
Pepper
Prepare the ingredients by finely dicing the vegetables and half of the mushrooms, cutting the rest into large chunks. Cube bread into rough 1" and ½" pieces (you can also do this the day before to let them dry out even more).
Sauté carrot, celery, garlic, and onion into the non-infused butter until translucent. Add the smaller chopped mushrooms and cook until they begin to release moisture stirring frequently. Transfer the veggies into a heat-safe bowl.
Stir in the herbs, salt, pepper, melted cannabutter, veggie cube, and broth, and mix until the ingredients are combined. Add the bread and fold until the broth is absorbed. You can alternatively add ¼ cup of broth at a time until you get to your desired consistency, some people like more moist stuffing than others.
Either stuff a chicken with this mixture and bake to the recipe's specifications, or pile into a casserole and heat up for a yummy side dish with a slight crisp on the top.
Serve with your beautiful bird and some type of green vegetable for a complete holiday meal. This one shoots for quality over quantity.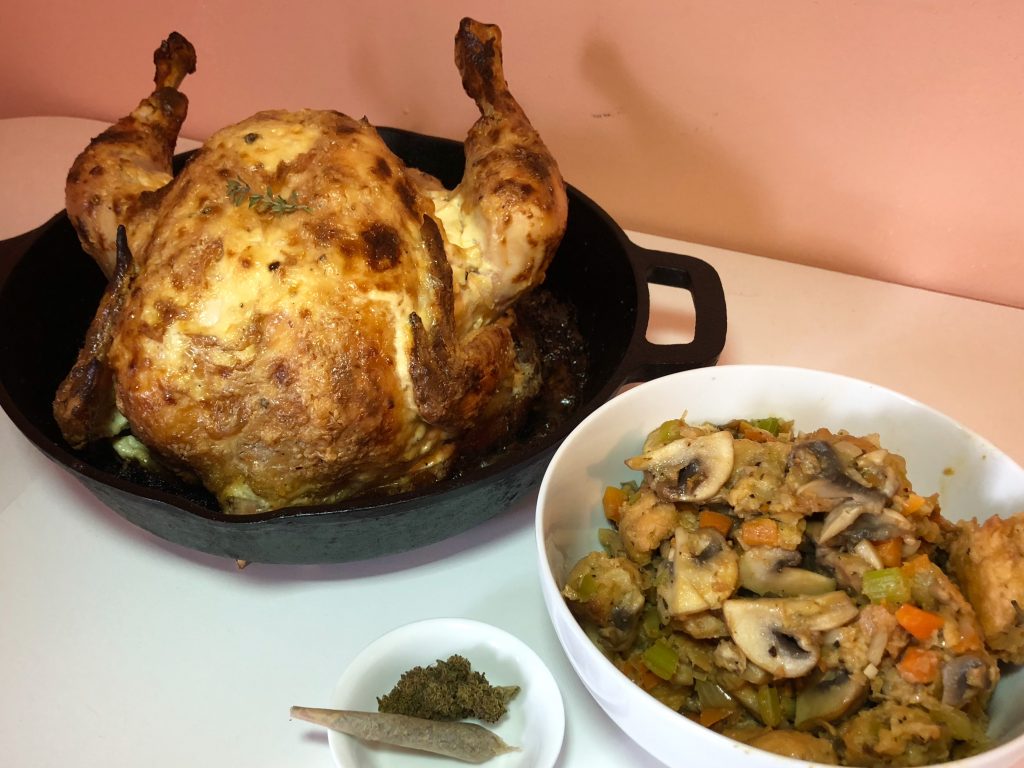 *Cannabutter
Decarboxylate 2 grams of finely ground cannabis or .25 gram of concentrate. Put material in lidded mason jar or vacuum sealed bag with cannabis and one stick of butter. Heat in water bath just under boiling for at least 1 hour. Strain and cool to use in recipes.
Though this isn't the giant Turkey with eight sides many are used to, its more than enough to get the party going for up to four people. Getting pleasantly stoned while you chow down should be the new American tradition you bring to the table.