It's a forever problem: How do I sit here and shovel ice cream into my face without ice cream? Hold tight, because this age old dilemma has finally been solved. Now, you can make ice cream without one of those expensive mixer things. You can make it with…salt!
"Freeze a salt block in the coldest part of the freezer overnight," says Tyler Malek, co-founder and head ice cream maker of Salt & Straw. "This chunk of salt (ed note: he's fond of this brand) gets collllllld—like too cold to hold with your fingers—so be sure to use oven gloves. Pour a pool of sweetened cream on the block of salt and, using a metal spatula, slowly scrape the frozen cream off of the salt block. It's like scrambling eggs."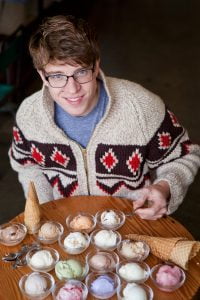 Another hack:
"Let your ice cream get to a soft serve texture and then mix in melted chocolate; pour it in and stir it quickly. It's a stracciatella effect, the chocolate hardens in a way that releases chocolate flavor significantly faster as you eat the ice cream. Delicious!"
Here are some more DIY ice cream toppings from our new BFF Tyler that you probably thought were way more complicated to make.
Chocolate Magic Shell: Melt a really nice chocolate with a little coconut oil to make homemade magic shell. It's magic! Top with sprinkles or homemade candied nuts.
Candied Apples: Make a sugar syrup using about ½ c water + ½ c apple juice + 1Tbsp Lemon Juice + ½ c sugar; slices apples thin and uniform and store in the syrup overnight. These make the perfect topping for a good vanilla ice cream, maybe crumble some ritz crackers & cinnamon on top… As an adult bonus: the leftover juice makes the perfect syrup to combine with a bit of brandy & bourbon.
Candied Hazelnuts & Honey: Make a simple syrup of ¾ c sugar + ½ cup hot water. Toss chopped hazelnuts in the syrup and then dry them in the oven at about 350F. Once the nuts have dried, candied, and cooled, use as a topping for ice cream combining with a drizzle of fresh honey.
Pear & Blue Cheese: I promise this is a good one! Chop a fresh pear into ¼" cubes and store them in a syrup (of 1 part water + 1 part sugar) overnight in the refrigerator. Sprinkle the pears and a pinch of crumbled blue cheese on top of the ice cream… I definitely recommend Rogue Creamery's Crater Lake Blue Cheese.
Graham Cracker Crunch: Toss graham cracker pieces with melted butter, sugar & a little salt (maybe some cinnamon…). Bake until crunchy. Put a spoonful of this delicious treat with a handful of fresh berries on top of ice cream for the perfect summer treat!